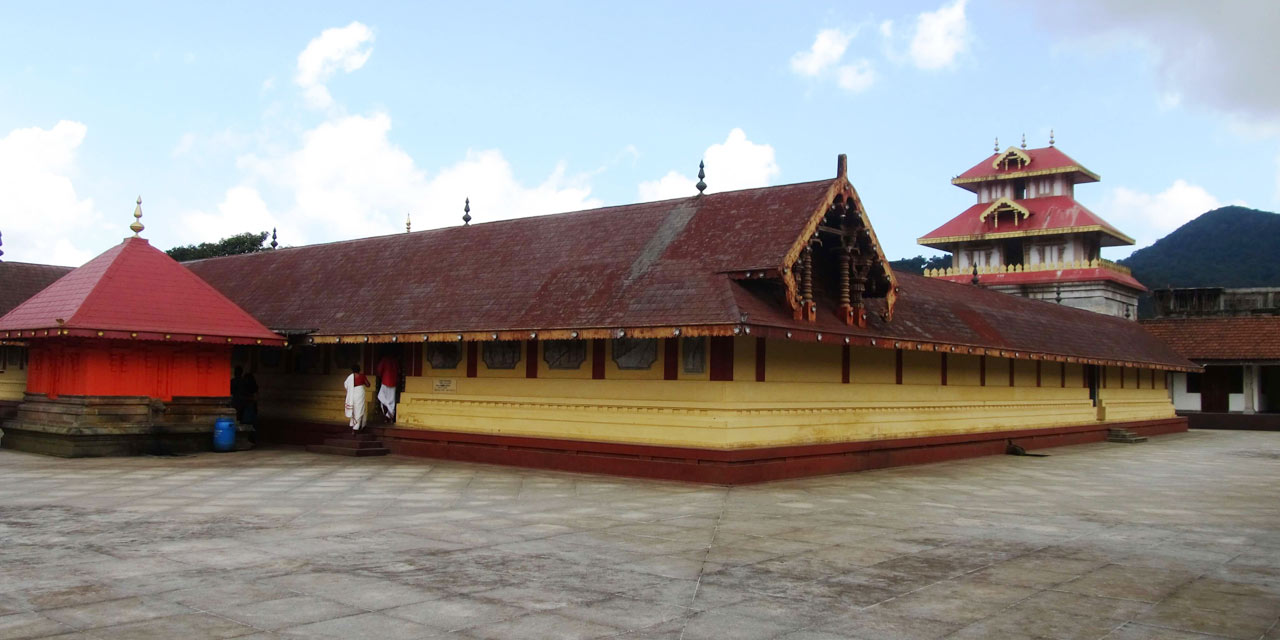 Padi Igguthappa Temple Coorg Entry Fee
Padi Igguthappa Temple Coorg Phone
N/A
---
Rating:
| 4/5 stars
Based on total 59 reviews
Padi Igguthappa Temple Coorg Address: Peroor, Coorg, Karnataka, 571214, India
Coorg Tour Packages
Padi Igguthappa Temple Coorg Timings
Day
Timing
Monday
5:30 am – 2:00 pm
6:00 pm – 7:00 pm
Tuesday
5:30 am – 2:00 pm
6:00 pm – 7:00 pm
Wedesday
5:30 am – 2:00 pm
6:00 pm – 7:00 pm
Thursday
5:30 am – 2:00 pm
6:00 pm – 7:00 pm
Friday
5:30 am – 2:00 pm
6:00 pm – 7:00 pm
Saturday
5:30 am – 2:00 pm
6:00 pm – 7:00 pm
Sunday
5:30 am – 2:00 pm
6:00 pm – 7:00 pm
Links:
Website
|
Map
---
Located in the Kakkabe town, the Padi Igguthappa Temple was built by Lingarajendra in the year of 1810. One of the most ancient temples, it is located in Igguthappa Devara betta in Aiyengeri forest which is 45 Km from Madikeri city towards Virajpet.
The architectural structure of the temple resembles ancient Keralite temples to a large extent. The temple is dedicated to Lord Igguthappa which is another name for Lord Subramanya. This temple holds great importance amongst Kodavas and influences their culture and tradition.
Image Gallery of Padi Igguthappa Temple Coorg
There is an annual festival at the temple which is held during the month of March. During this time, devotees from everywhere come together to offer special prayers to the deity. Devotees take procession of the God to the top of Mallama Betta Hill and later reinstall the same in the temple.
Various ceremonial dances are performed afterwards. Here, offering are made in unique way called as "Tulabhara" where devotees weight themselves against fruits, sugar, coconuts, rice, etc. During the harvesting festival of Coorg which is called as Puthari festival, the temple plays an important role.
It is believed amongst pilgrims that Igguthappa holds great magical powers and if prayed with true devotion, all wishes are fulfilled here in the temple.
Tourists can visit the temple in morning between 5.30 am - 2 pm and then in evening between 6 pm - 7 pm. To reach the temple, one can take many of the private buses running from towns such as Madikeri, Virajpet and Napoklu.
However, if you want to travel on your own, you can hire a private vehicle and travel at your convenience.
Location Map for Padi Igguthappa Temple Coorg