A must-visit holiday destination for tourists of all kinds, whether you're a leisure traveler, a nature admirer, or an adventure seeker, Coorg is a place that has everything one can ever ask for. Along with unparalleled beauty and jaw-dropping views, Coorg offers a platter full of indoor and outdoor activities to keep you occupied throughout the time on your 2-day visit to this hill station.
If you're a newlywed and looking for some alone time or a couple who is seeking to rekindle the romance, the awe-inspiring mountains with verdant landscapes in the background give you the much-needed privacy you need to create some unforgettable memories with your partner. If you're a religious person, Coorg presents you with several holy and divine sites that let you spend some time in serenity and take blessings from the presiding deities.
Also referred to as the Scotland of India, this little hamlet has always been preferred by holidaymakers over the other hill stations in India for all the above-mentioned reasons and it promises to offer a fantastic experience to both the domestic and foreign travelers alike.
Perched between the imposing mountains of Karnataka, Coorg is blessed with several lakes, waterfalls, valleys, peaks, national parks, wildlife sanctuaries, die-to-fall scenery, and a soothing climate that tempts you to pack your bags right away and plan a getaway to this paradise at any time of the year.
Ideal for people of all ages, this hidden gem of the country boasts plenty of tourist places to be explored and it might not be feasible for anyone to visit all the popular sightseeing places in Coorg in just 1 or 2-days. So, for your ease, we at Coorg Tourism, a division of Holidays DNA, have listed a few of the places you can plan to cover during your 2-days Coorg tour. These are as follows:
Coorg Places to Visit in 2 days
Day 1 Coorg Places to Visit
Tibetian Monastery / Golden Temple
Nisargadhama Forest Park
Dubare Elephant Camp
Omkareshwara Temple
Day 2 Coorg Places to Visit
Talakaveri Temple / Waterfalls
Triveni Sangam
Sri Bhagandeshwara Temple
Raja's Seat
Abbey Falls
Madikeri Fort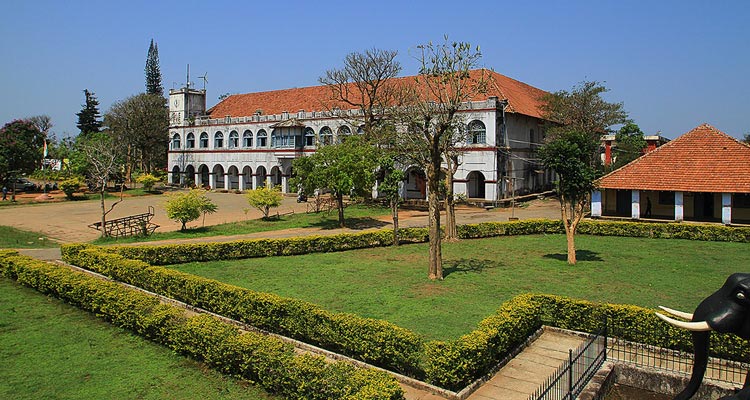 Situated in the heart of Madikeri amid the lush greenery and rolling hills, the Madikeri Fort is a famous historical landmark that invites people to step back into the history of the region and gather enough knowledge about the bygone era.
It's a stunning architectural marvel that preserves its old-world charm until today and is widely known for defining the beauty and culture of Coorg in its own way. Here you can observe the 2 life-size statues of the elephants as soon as you enter the premises along with a temple, a church, a museum, and a library that are pretty intriguing, especially to the history buffs. There is also a Tortoise sculpture that is worth seeing on your trip to this destination.
Please note that if you wish to witness this place in its full glory, there is nothing like visiting it during the monsoon season. Because when it starts raining, the verdant greenery all around the place springs to life, thus making it look even more beautiful and enchanting. There is no entry fee to explore the Madikeri Fort in Coorg and it welcomes its tourists from 10:00 AM to 5:30 PM on all days except Monday.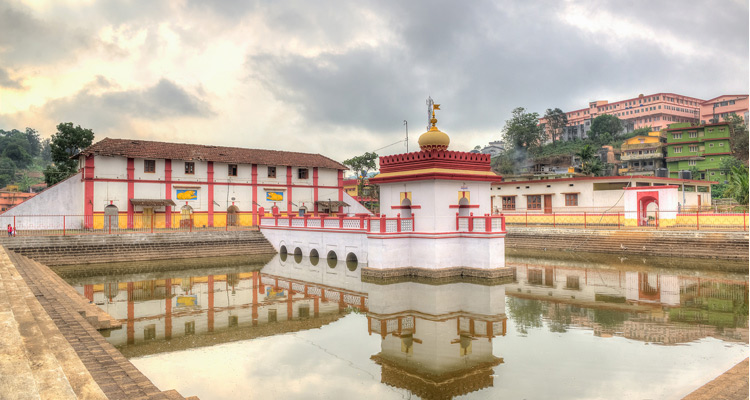 Visit the ancient Omkareshwara Temple to seek blessings from Lord Shiva. Lying in the Western Ghats of Karnataka, the Omkareshwara Temple exhibits a unique combination of Gothic and Islamic architecture to captivate the attention of avid travelers, wanderers, and experience seekers from near and far every year.
Constructed in the year 1820 by King Lingarajendra II, this religious site has been built in Muhammadan style and is shaped like a typical mosque. It features a large water tank where you can see a variety of fishes playing with each other. The devotees are allowed to feed them on their way to this temple.
If you're traveling with your family on your Coorg tour, you should definitely include this gorgeous temple in your itinerary list as it is something that shouldn't be missed, whether you are here for 1-day or 2-days. There is no entry fee to visit the Omkareshwara Temple in Coorg and it opens its door for its devotees from 6:30 AM to 12:00 PM and then from 5:00 PM to 8:00 PM from Monday to Sunday.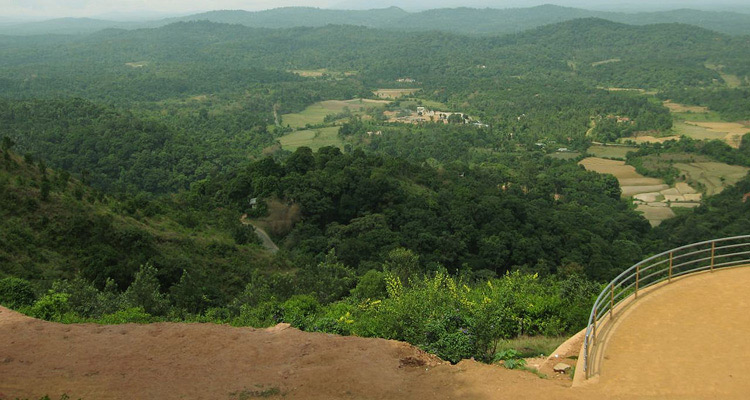 All those who're ready to walk the extra mile to admire the mesmerizing views of this hill station surrounded by green valleys, paddy fields, and verdant landscapes can head towards the Raja's Seat. Located in the Madikeri town, the Raja's Seat is a popular viewpoint that presents its tourists with a refreshing setting and soothing environment so that you can relax and unwind in tranquility.
Visit it in the early morning to welcome the golden hues of the sun rising from the mist-laden valleys. It's a kind of experience that is hard to get anywhere else in the region and is even adored by shutterbugs from all over the world. And if you're not a morning person, you can also plan to uncover its picturesque beauty in the evening when a similar scenery is created during the time of sunset. For the enjoyment of little guests, there is also a facility of toy train safari where your children can comfortably accommodate themselves and go on a complete tour of this exotic location.
The entry fee to visit the Raja's Seat in Coorg is INR 5 per person. You can visit it at any time as it is open to its tourists on all days of the week. However, the preferred timings are from 5:30 AM to 8:00 PM.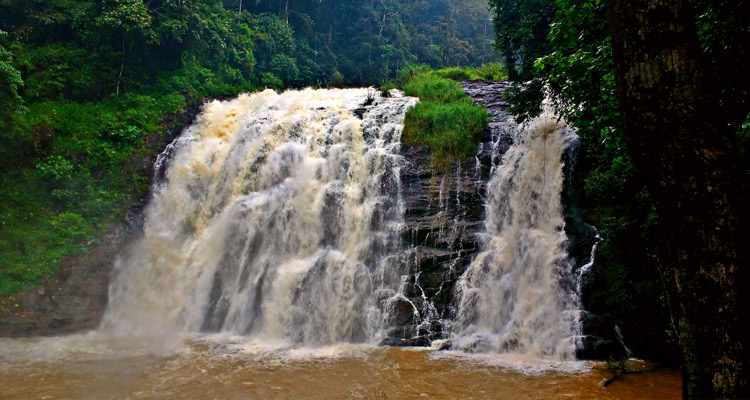 Wake up early and head to Abbey Falls to enjoy the spectacular scenery of water falling from the 70-feet cliff. Considered as the most beautiful waterfall in and around Coorg, the Abbey Falls, perched between refreshing coffee plantations and spice estates, is a magnificent natural phenomenon that allows locals as well as tourists to have a great day with their loved ones and is undoubtedly a must-visit attraction on your 2-days trip to Coorg.
Heaven for nature lovers and photographers, the Abbey Falls is widely known for its unparalleled charm and serene ambiance and has everything you need to soak in peace in the realm of nature. In addition to enjoying a breathtaking view from a hanging bridge, one can also indulge in various other activities to make the most of their time. These include a tour of coffee and cardamom plantations, trekking, and photography of the surrounding scenery through a mind-blowing lens.
The entry fee to visit the Abbey Falls in Coorg is INR 15 per person and the preferred timings to enjoy the cascading waterfall here are from 9:00 AM to 5:00 PM on all days.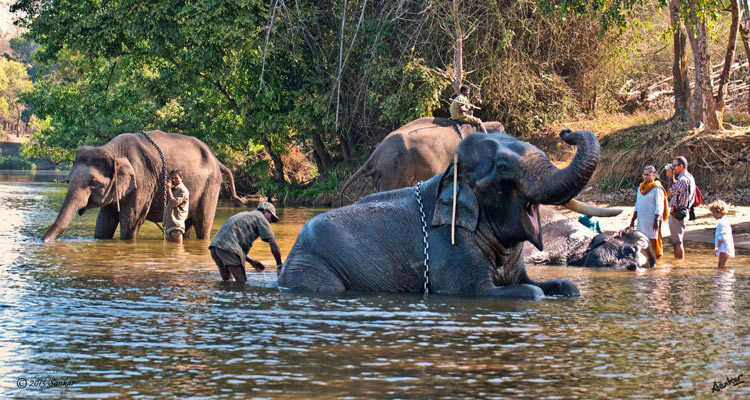 The next destination that is worth exploring on your 2-days visit to Coorg is Dubare Elephant Camp. It is basically an elephant camp that provides shelter to over 150 elephants and offers an exceptional opportunity for people to get close to them by engaging in various activities like bathing, feeding, and riding them.
Located on the banks of River Cauvery, the Dubare Elephant Camp is an idyllic destination to learn more about this majestic creature. Here you can observe the elephants in detail and get to know everything about their history, biology, and ecology. One can also see how these animals live peacefully and enjoy the company of each other in their natural habitat. To know more about them, you can also take assistance from the naturalists who give useful insights to the passers-by.
The entry fee to visit the Dubare Elephant Camp is INR 20 per person and it welcomes its tourists from 9:00 AM to 11:00 AM and then from 4:30 PM to 5:30 PM on all days. In case you're looking for a full-day stay here that includes breakfast, lunch, a nature trail, and an elephant interaction, you'll need to pay between INR 690 to INR 1330 if you're a citizen of India and between INR 1467 to INR 2270 if you're traveling from overseas countries.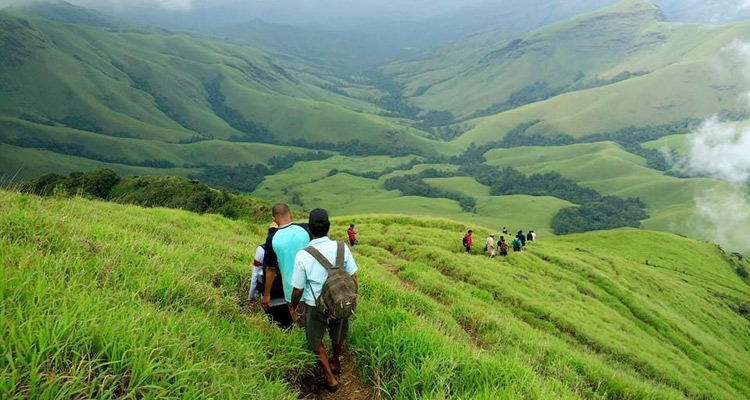 Another sightseeing spot among the top places to visit in Coorg is the Mandalpatti Viewpoint. It's a unique vantage point in Coorg that attracts wanderers and sightseeing lovers in huge numbers every year. The persistent tranquility of the Mandalpatti hills will soothe your mind and the unseen wonders will make you visit it time and time again. Such is the aura of this place.
There's nothing like resting on the top of this mountain as you spot the colorful birds, butterflies, and dragonflies moving from here to there and vice-versa. A popular spot to witness the splendid sunset with your partner, you could either choose to trek or simply opt for a challenging hike among the lush green valleys. Lastly, do not forget to experience camping here to enjoy your trip to the fullest.
The entry fee to visit the Mandalpatti Viewpoint is INR 25 per person and the preferred timings to uncover its hidden beauty would be from 6:00 AM to 6:00 PM from Monday to Sunday.
7. Pushpagiri Wildlife Sanctuary
Out of all the 21 wildlife sanctuaries in Karnataka, the Pushpagiri Wildlife Sanctuary is a favorite place among wildlife enthusiasts.
Nestled in Somwarpet taluk of Coorg district, this reserve forest, encompassed by abundant lush greenery and evergreen dense trees, is famous for following a sustainable approach to protect the endangered bird species from across the nation. Here you can spot a diverse range of birds like Malabar Grey Hornbill, Nilgiri Wood Pigeon, Blue-Winged Parakeet, and Grey Breasted Laughing Thrush along with wild animals such as Langur, Indian Hare, Sambar, Elephants, Pigs, Brown Palm Civets, Wild Dogs, etc under one roof.
Kumara Parvat Peak which lies here is the prime highlight of the Pushpagiri Wildlife Sanctuary. Other points of tourist interest that encourage wildlife enthusiasts to flock to this place are the Mandalpatti Peak and Mallalli Falls which can also be covered on your way back home. What else? You can also try your hand at wildlife adventure safari, trekking, hiking, and photography for a fun-filled day out with your family.
To visit the Pushpagiri Wildlife Sanctuary in Coorg, you will need to pay INR 10 per person as an entry fee, and it opens its doors for tourists from 6:00 AM to 6:00 PM on all days and the recommended exploration time is 3-4 hours.
---
So, these are a few places that you can plan to visit in Coorg to spend the best 48 hours of your life and we promise that you'll not regret it. Coorg has a lot more to unveil to its tourists but this list pretty much covers all the prime attractions of the town. However, if you have enough time, you can extend your getaway to 3-days or more to see how "The Scotland of India" can excite you even more.
Need any help with your Coorg tour? Get in touch with our team of professionals. We at Coorg Tourism, a division of Holidays DNA, carefully design a variety of Coorg tour packages keeping the varied holiday requirements of our avid travelers in mind.
Holidays DNA, the best travel company in India assists people in selecting the most suitable travel package according to their budget along with creating an itinerary that helps them cover everything they want to. You can also avail the benefits of travel deals to enjoy your trip to this hill station at pocket-friendly prices. One can also book a cab from the list of top car rental companies in Coorg to commute at their utmost comfort. Please fill out the Contact Us form to know more about us.