An intriguing, enthralling, and frequently visited hill station in South India that draws tourists of all types, whether you're a nature admirer, a wanderer, an explorer, or an adventure seeker, Madikeri is a place that has everything you need to make the most of your leisure or recreational trip. With our Madikeri Darshan packages you can visit this amazing destination and create everlasting memories.
If you're an individual traveler who is looking to spend some ME time, the lush green forests and misty hills make you forget about everything in your daily life and let you enjoy an escapade far away from the chaotic world. If you're a couple who is looking to rekindle the romance, the world-class resorts in Madikeri offer an environment where you can enjoy some intimate moments in much-needed privacy with your partner.
If you're on a family holiday, then this place presents a range of picnic spots that enable you to have a fun-filled day out with your children which you'll remember forever. All-in-all, it won't be wrong to say that this little hamlet won't disappoint you as it boasts something for everyone.
Also referred to as the Coffee Capital of Karnataka, Madikeri has been inspiring people to take a break from everyday life for all the aforementioned reasons and it promises to deliver an unforgettable experience to both national and international tourists alike. There are lakes, waterfalls, national parks, wildlife sanctuaries, valleys, peaks, and an abundance of natural beauty that will surely leave you enthralled for many days to come.
However, to have a great time, one needs to have a well-planned itinerary that can help them cover the popular sightseeing places in Madikeri without going over the budget. So, for your ease, we at Holidays DNA, have curated a list of some of the tourist attractions as part of our Madikeri Darshan Packages that shouldn't be missed at any cost if you wish to enjoy your trip to the fullest. These are as follows: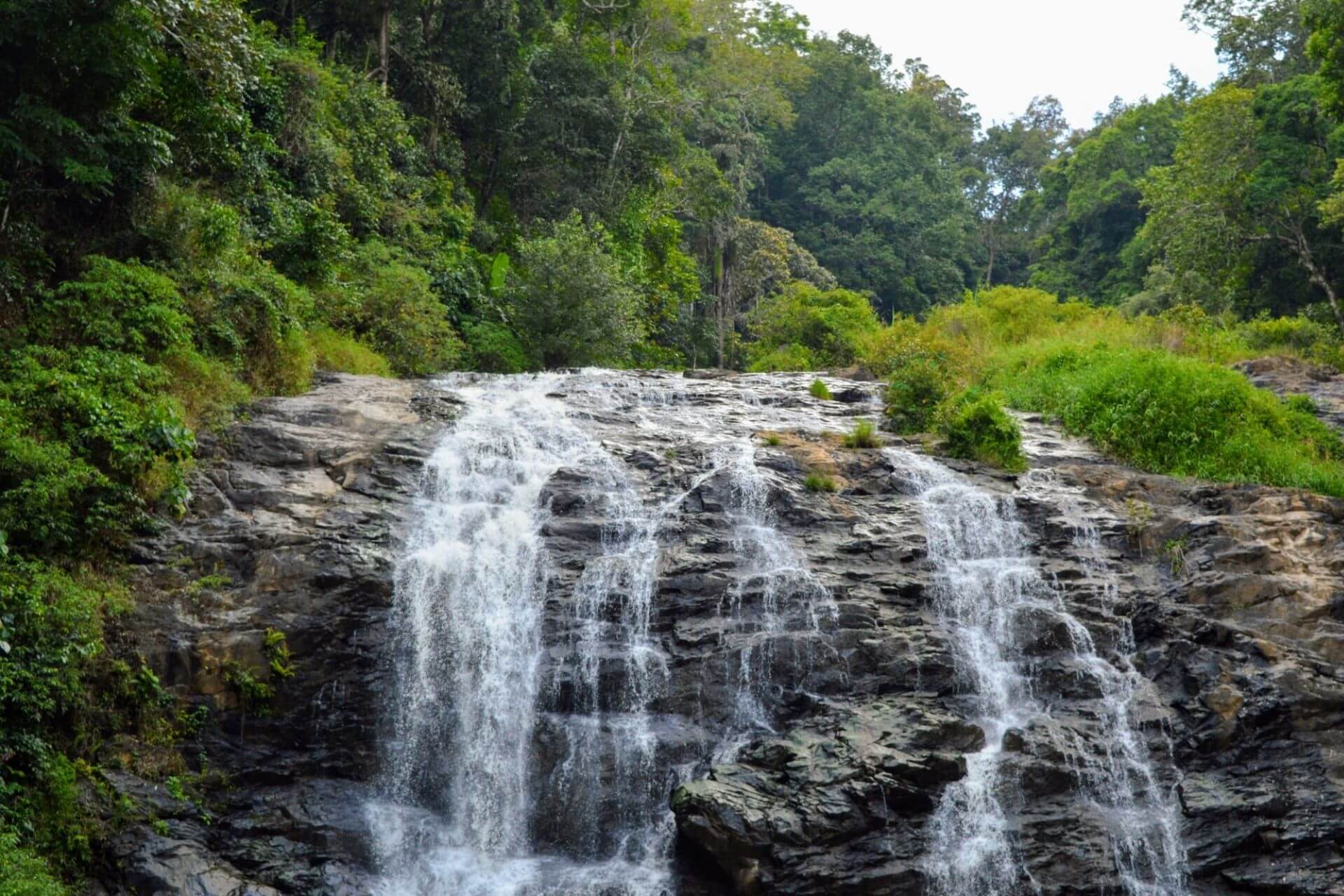 The most beautiful waterfall in Madikeri, Abbey Falls, invites people from far and wide to enjoy the magnificent phenomenon of water falling from a height of 70 feet. It's a perfect spot for all those who are ready to walk the extra mile to enjoy the best views of nature on their trip and can also be visited by families with children.
Located at a distance of 10 km from the hilly area, Abbey Falls boasts an unparalleled charm and aura that delights tourists of all types and offers a kind of experience that you cannot simply put in words, no matter what.
Here you can look over the mind-blowing views of the verdant landscapes, try your hand at trekking or simply indulge in a photography session to make the most of your visit. If time permits, one can also take a detailed tour of the coffee and cardamom plantations to gain enough knowledge about them.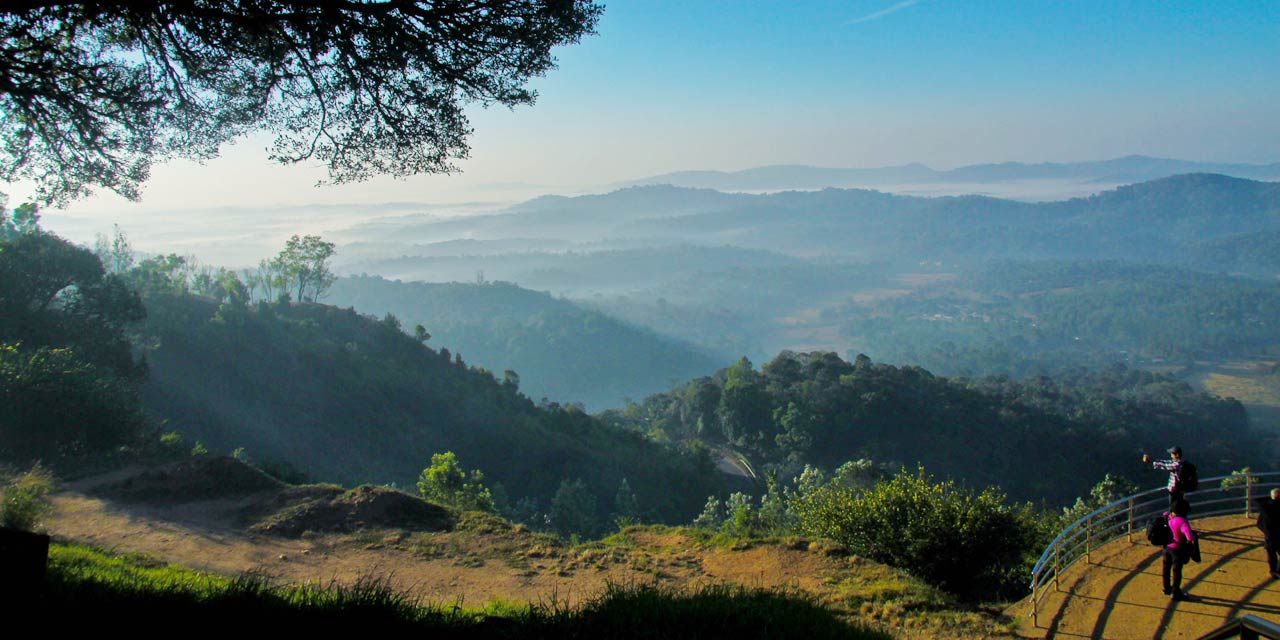 Surrender yourself to an abundance of natural beauty at Raja's Seat. Surrounded by green valleys, breathtaking mountains, and towering hills, the Raja's Seat is a famous viewpoint that presents a serene setting with a laid-back atmosphere for locals as well as tourists to relax, unwind, and feel rejuvenated in utmost tranquility.
It's a brick-and-mortar structure located inside the massive garden. The garden comprises a variety of colorful flowering plants and artificial fountains that make it look even more enchanting when in a fully bloomed phase.
Try to visit this place either in the early morning or evening. At both times, you get an opportunity to view the amazing sunrise/sunset that will surely take your breath away. Don't forget to enjoy the toy train ride as it is super fun for little ones.
Situated in the heart of Madikeri town, Madikeri Fort is the next must-visit attraction to explore with our Madikeri Darshan Packages. It's a majestic fort that welcomes history buffs to look back into the past and gain enough knowledge about the region's bygone era.
Dating its history back to the 17th century, the Madikeri Fort is a 2-story heritage property that features spectacular architecture with two life-size replicas of elephants at the entrance. Here you also find a museum that houses ancient artifacts and antique items to preserve the old-world charm of the fort until today.
Other attractions such as the temple and a library can also be found within the premises. There is also a sculpture of a tortoise that catches everyone's attention whoever visits it, whether for a short or long break.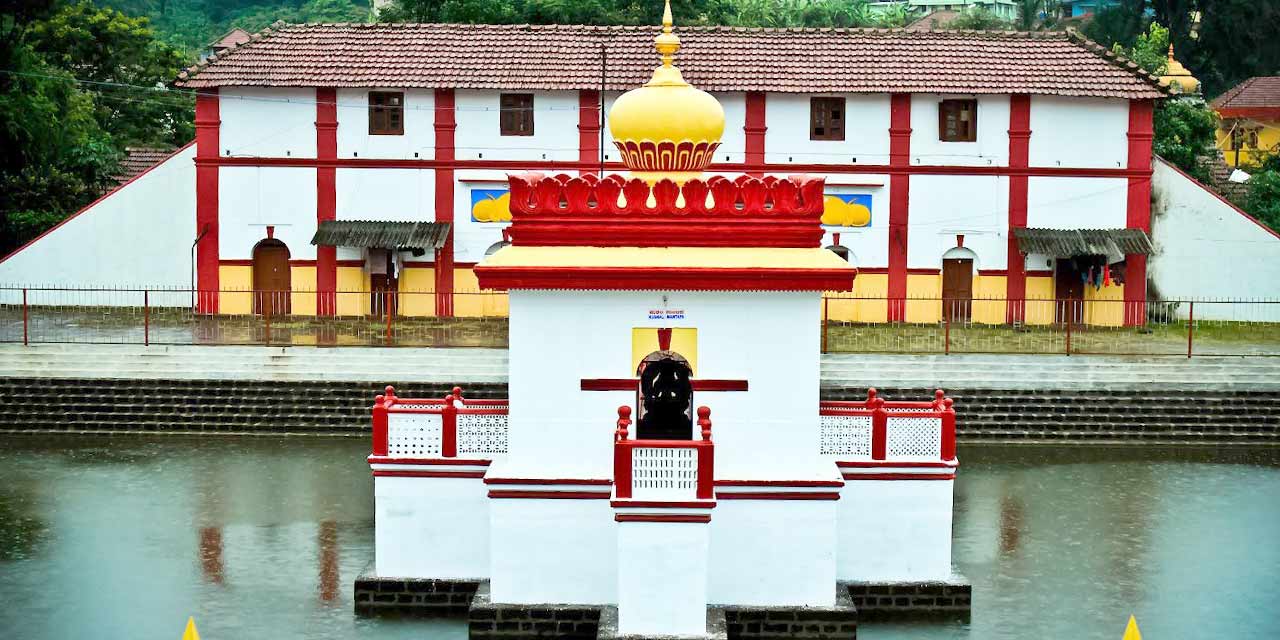 If you're seeking to evoke a sense of spirituality on your Madikeri tour, then there is no place better than the Omkareshwara Temple. Built by King Lingarajendra II in the year 1820, the Omkareshwara Temple is an age-old pilgrimage site that exhibits immense serenity around it.
It's a traditional Hindu temple that is dedicated to Lord Shiva and boasts a fascinating piece of architecture to attract a huge crowd of tourists of all types in large numbers every year.
Please note that this temple has been constructed in an Islamic style and looks like a typical mosque when viewed from a certain distance. The moment you enter its gate, you'll find a large water tank that is filled with thousands of water fishes playing with each other.
In case you feel like feeding them, you can feed them in the pond on your way to the temple. Entry to the Omkareshwara Temple is free for national as well as international travelers and the recommended exploration time would be 1-2 hours.
---
Once you're done with the above-mentioned sightseeing places in Madikeri, you can plan to visit a few more places that deserve to be seen by everyone at least once for sure. These include Tadiandamol Peak, Dubare Elephant Camp, Iruppu Falls, Pushpagiri Wildlife Sanctuary, Government Museum, Raja's Tomb, St Michael's Church, and many coffee plantations.
Have the best time of your life in Madikeri with our all-inclusive Madikeri tour packages. We at Coorg Tourism, a division of Holidays DNA, present a variety of travel packages that enable you to enjoy your trip exactly the way you have always dreamt of. Our team helps you shortlist the Madikeri tour package that suits your requirements the most along with curating an itinerary as per your holiday interest. You can also avail of the discount coupons to make the most of your trip at pocket-friendly prices. Please fill out the Contact Us form to get in touch with us.
How to Reach Madikeri?
Madikeri is the most-sought after hill station in South India that provides great connectivity to the neighboring areas and the rest of the country via all modes of transportation. Depending on your preferred way of traveling, you can choose to commute through airways, roadways, or railways.
Mangalore Airport is the nearest airport that receives several domestic and international flights from different parts of the world. Outside the airport, you can book a private cab from the list of top car rental companies in Coorg to cover the required distance to your desired location in a hassle-free manner.
The second convenient option is by train. Due to the unavailability of its railway station within the area, many people catch a train to Mysore Railway Station, which is nearly 107 km away. From Mysore Station, opt to sit in a private/public bus to get down to Madikeri at reasonable rates.
Lastly, Madikeri can also be easily accessed by people via road. For your ease, the KSRTC department runs various buses from the metro cities of India to Madikeri on an everyday basis. The facility of deluxe buses with AC facility is also available for people who consider comfort their utmost priority. However, make sure to reserve your seat in advance in case you're planning to travel during the peak season of the year – to avoid any confusion later.