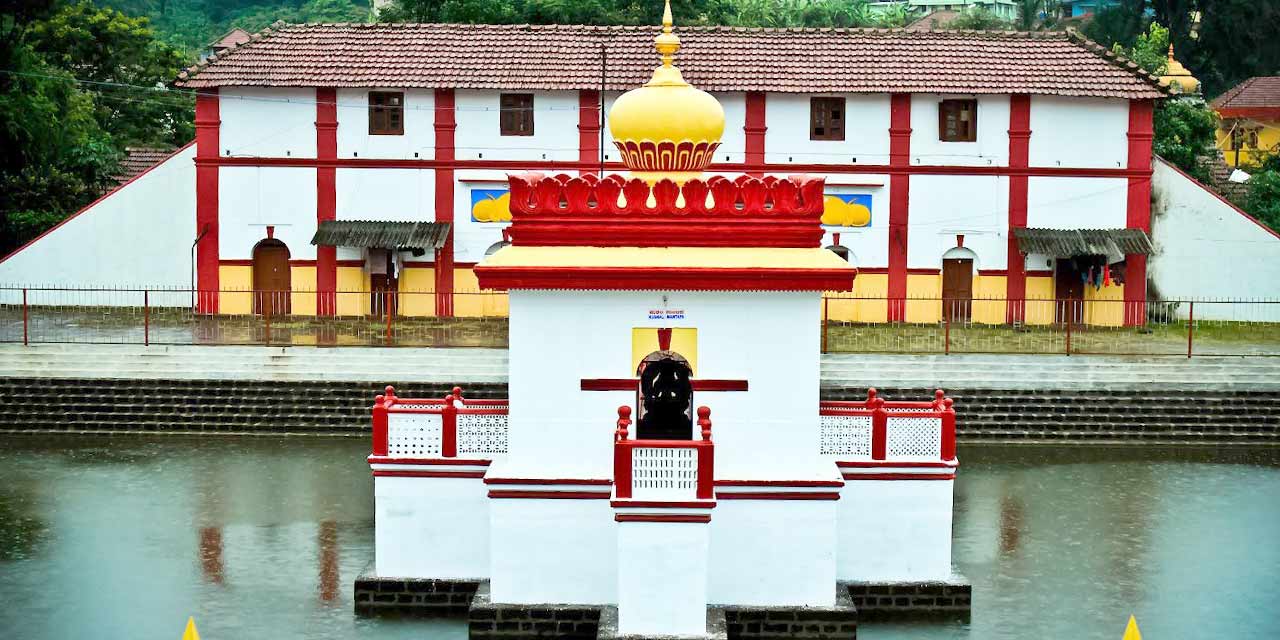 Omkareshwara Temple Coorg Entry Fee
Omkareshwara Temple Coorg Phone
N/A
---
Rating:
| 4/5 stars
Based on total 50 reviews
Omkareshwara Temple Coorg Address: State Highway 88, Stuart Hill, Madikeri, Coorg, Karnataka, 571201, India
Coorg Tour Packages
Omkareshwara Temple Coorg Timings
Day
Timing
Monday
6:30 am – 12:00 pm
5:00 pm – 8:00 pm
Tuesday
6:30 am – 12:00 pm
5:00 pm – 8:00 pm
Wedesday
6:30 am – 12:00 pm
5:00 pm – 8:00 pm
Thursday
6:30 am – 12:00 pm
5:00 pm – 8:00 pm
Friday
6:30 am – 12:00 pm
5:00 pm – 8:00 pm
Saturday
6:30 am – 12:00 pm
5:00 pm – 8:00 pm
Sunday
6:30 am – 12:00 pm
5:00 pm – 8:00 pm
Links:
Website
|
Map
---
Lying in the Western Ghats of Karnataka, Coorg, also knowns as Kodagu is undeniably a breathtaking hill station yet it offers its tourists much more than scenic beauty. Omkareshwara temple, one of the popular sightseeing places of a Coorg is one such example.
Built in 19th century, in 1820, by King Lingarajendra II presenting an interesting architecture that attracts not only devotees but everyone. Irrespective of which faith you are from, its unique blend of Gothic and islamic architecture is worth exploring. This temple is dedicated to Lord Shiva.
About Omkareshwar Temple
Located in Madikeri, Omkareshwara temple was built in 1820 by King Lingarajendra II as act of penance. The temple was built in the Muhammadan style of architecture consisting of a dome in center.
Its four corners are surrounded by four turrets. Near the entrance door of the temple, a linga has been installed. Another attractive architectural feature of the temple is the water tank in front, which is inhabited by various different varieties of fish.
History of Omkareshwara Temple
In 18th century, King Lingarajendra II built Omkareshwara Temple as a gesture of his penance. As per the legend behind the temple, King Lingarajendra II for his political gains, had killed a brahmin who has noticed his misdoings.
However, later the spirit of brahmin is said to take the form of brahmaraksha who in turn bothered the king for his cruelty. Hence, post the death of brahmin, khe King started having nightmares which troubled him to a great extent.
In search of an end to the nightmares, King sought help from other learned brahmins. Brahmins advised him to built a temple. As per them, building the temple dedicated to Lord Shiva will end the mental agony of the King.
King, who was desperate to attain mental peace by appeasing the Brahmin's spirit, followed the advices. He then, brought the holy Shiva Lingam from the spiritual town of Kashi. The Shiva Lingam was named Omkareshwara and installed in the temple. Hence, the temple is now known as Omkareshwara temple.
Architecture of Omkareshwara Temple
Presenting a unique amalgamation of Gothic and Islamic architectural styles, Omkareshwara Temple is a sight worth exploring with our Coorg tour packages. Apart from seeking blessings of the Lord Shiva, tourists can admire its different style of architecture, which in some manners, is similar to a islamic Dargah as the temple consists of a huge dome in centre and four minarets that surround its four corners.
On the entrance door, you will find a copper plate on which the history of the temple has been inscribed. The windows of the temple consists of bars which are built with panchaloha. In between the window bars, alphabet 'lim' are placed.
Inside the temple, there is water tank which consists of various kinds of freshwater fish. In the center of the water tank, there is mandapa which is connected through a walkway. The fish in water tank are a special attraction for children visiting the temple.
Unlike most of the temples in India, Omkareshwara temples does not have any hall with pillars while the holy shiva lingam has been installed near the entrance door. The temple has a simple structure which is accompanied by peaceful environment making it an ideal place to visit.
Timings of Omkareshwara Temple
The temple is open all days of the month. The timings of Omkareshwara Temple are from 6.30 AM to 12 Noon. It again opens at 5 PM and closes by 8 PM. There is no entry fee to visit the temple. One can visit the temple at anytime of the year.
It takes around 1 hour to visit Omkareshwara Temple.
Following are the Pooja schedules of the Omkareshwara Temple. Devotees and travellers can plan their visit accordingly.
Abhisheka - 6:30 AM to 6:45 AM
Ganga Pooja - 7:00 AM
Maha Pooja - 12:00 noon
Maha Pooja - 8:00 PM
There is a Satyanarayana Pooja every full moon day of the month. A Ganahoma at Kote Ganapathi temple is also conducted every 1st tuesday of the months.
How to reach Omkareshwara Temple
Located in the town of Madikeri, Omkareshwara temple can be reached without any hassle. The town of Madikeri is well connected to the rest of the Karnataka state. Once in Madikeri, tourists can hire a local transport like auto-rickshaws or taxis to reach the temple.
If travelling by road, tourists can opt for private or KSRTC buses which run regularly from cities like Bangalore, Mysore, Virajpet and Mangalore. There are regular buses from Kerala as well to Madikeri. Incase if you have just one day, you can check this one day Mysore to Coorg tour package from Oneday.tours portal.
For those who want to travel at leisure, while exploring the route to Madikeri, can hire a taxi to drive their own cars. It takes around 5 hours and 30 minutes (265 km) by road from Bangalore to Madikeri.
The distance from Mysore to Madikeri which is approximately 118 km can be covered within 3 hours of time while Mangalore to Madikeri takes around 3 hours and 15 minutes as the distance between them is around 138 km.
Madikeri doesn't have any railway station. So if you are planning to travel by railways then you will need to get down at Mysore or Hassan, Kasargod and Kannur which are nearest railway stations.
Location Map for Omkareshwara Temple Coorg