Madikeri or Mercara, the capital of Coorg is a beautiful large hill town situated in Western Ghats. This hill station stands 1452 meters above sea level. The green woody slopes, colourful scenery, misty mountains, cascading falls, dense tropical forest, tea, coffee and spice plantations made this place a paradise of nature lovers.
This enchantingly beautiful place is popularly called as the 'Scotland of India' and also 'Kashmir of South'. There are so many attractions in and around Madikeri, we have compiled the list of the best places to visit in Madikeri:
01

. Abbey Falls, Coorg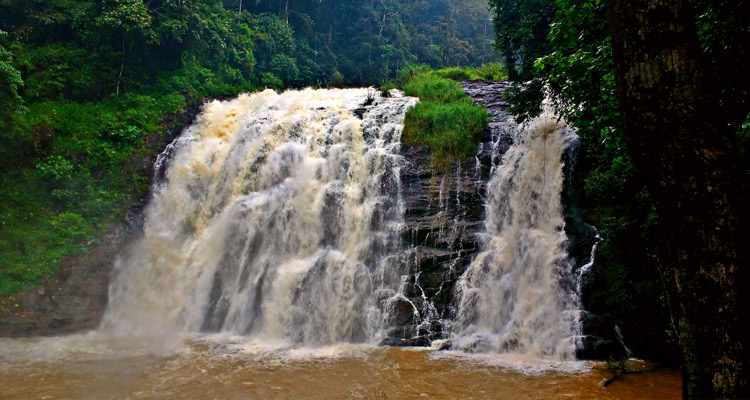 Abbey falls or Abbi Falls is situated 1 km from the town of Madikeri. This waterfall is famous for its natural beauty. This is a famous picnic spot and is called as Jesse falls in the olden days.
Abbey falls located between the natural greenery of coffee plantations and spice estates is blessed with stunning beauty and serene calm. The falls has a wild beauty. Water cascading over rocks into the pool. The roaring sound of the waterfalls can be heard from the road.
During Monsoon the water flow is very high and in dry seasons the flow is low. There is a hanging bridge here providing the amazing sight of this waterfalls. The best time to visit Abbey falls is early winter.
02

. Chiklihole Reservoir, Coorg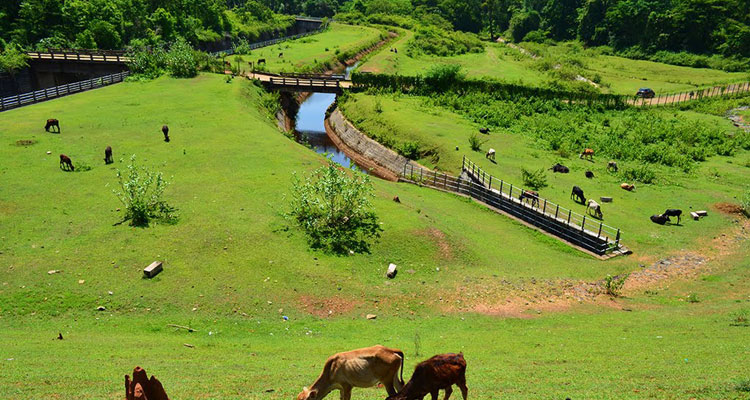 Chiklihole Reservoir is place to be visited if your time permits. The place is away from the usual crowd at popular tourist spots and offers some calm and peace to its visitors. The water of the dam flowing beautifully and the lushness of area around create a refreshing atmosphere.
The Chiklihole Reservoir, pronounced as 'Chikli-holey', is located between the towns of Madikeri and Kushalnagar of Coorg district. The reservoir is at a distance of approximately 15 km from Kushalnagar and Madikeri and is nearest to the town of Nanjarayapattana.
On one of the tributaries of the River Cauvery, the reservoir offer tourists with seclusion and privacy unlike other tourist spots. The dense forest along with the rich flora and fauna add on to the charm of the place. It is a great picnic spot and thus perfect for family outing as well. The place with amazing scenic beauty is nothing less than paradise for photographers. Sunset view is mesmerizing from here and an experience in itself.
The place has no shops nearby and thus tourists are required to carry all the basic amenities with them while visiting the reservoir. The best time to visit the place is during the month of June to March that is in the monsoon and winter season.
The reservoir is located quite close to the Dubare forest reserve which is just few kilometers away. One can visit the forest reserve as well which offers good opportunities for trekking and nature walks.
03

. Dubare Elephant Camp, Coorg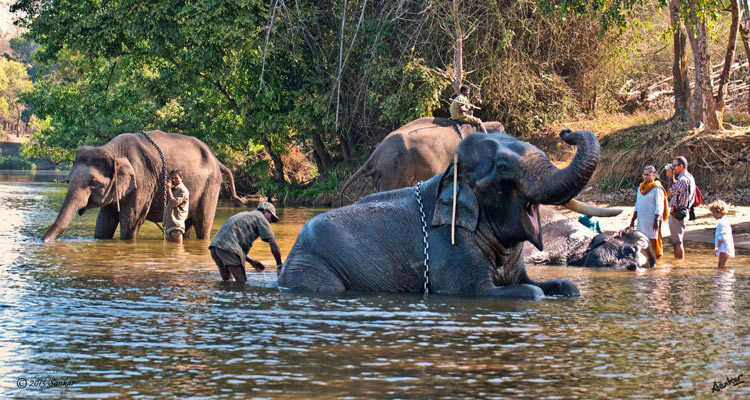 Dubare Elephant Camp is situated on the banks of River Kaveri in Coorg district of Karnataka state. A popular tourist spots, the camp attracts tourists, especially wildlife enthusiast from all over the world. It presents tourists with an opportunity to be close to elephants and engage in various activities related to them.
Elephant Camp at Dubare is the project undertaken by forest department and jungle lodges and resorts. Not just interaction with elephants, tourists also get mesmerizing natural settings consisting of lush greenery and refreshing environment to spend some memorable days.
Earlier at this place elephants used to be trained for Mysore Dussehra but now they are mostly used to jungle rides and other purposes. They are trained under naturalists. These trained naturalists assist tourists with details on Elephant history, ecology and biology. What makes this camp unique is the fact that tourists can participate in various activities with elephants which is three hour elephant interaction.
They can indulge in activities like 45 minute bath where they are allowed to give bath to elephants in River Cauvery, feeding them with ragi, jaggery, sugarcane, banana and coconuts. After this, they can go on a 45 minute elephant ride into the jungle.
Elephant rides for tourists are scheduled between 10 am to 12 noon and in evening from 4pm to 5pm. If interest one can stay here as well at the cottages which are part of Jungle lodges & resorts. These cottages offer comfortable stay amidst lush greenery and wild nature.
04

. Harangi Dam, Coorg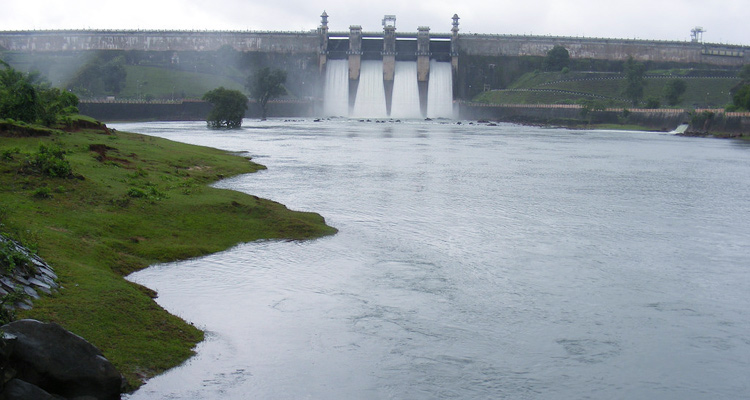 An interesting tourist spot, Harangi dam is situated in the Hudgur village near Kushalnagar if Coorg District. Built across the tributary of River Cauvery, Harangi dam is the first dam that has been built across River Cauvery. It has a height of 47 meters and length of 846 meters creating a marvelous view of forceful streams of water.
A popular picnic spot, it is good even for family outing where one can relax and spend some calm moments with his or her loved ones. It is located at a distance of approximately 36 km from Madikeri and can be reached without much difficulty.
It is a good place offering some seclusion and privacy as it is comparatively less crowded. So it you are looking for some break from usual hustle bustle of tourist spots, Harangi dam is the place for you. Calm setting and cool gentle breeze makes your time even more enjoyable. It is best to visit the dam is during the months of August to September as the water is more in the reservoir at time of the year.
If you like to stay over for a night or more, you can opt for the accommodation facilities available here. Tourists can opt for Guest house facilities are available here where tourists stay after reservation from the public works department.
Not just nature lovers, there is something for religious tourists as well. There is a Cauvery temple located quite near to the dam is a place worth visiting.
05

. Honnamana Kere Lake, Coorg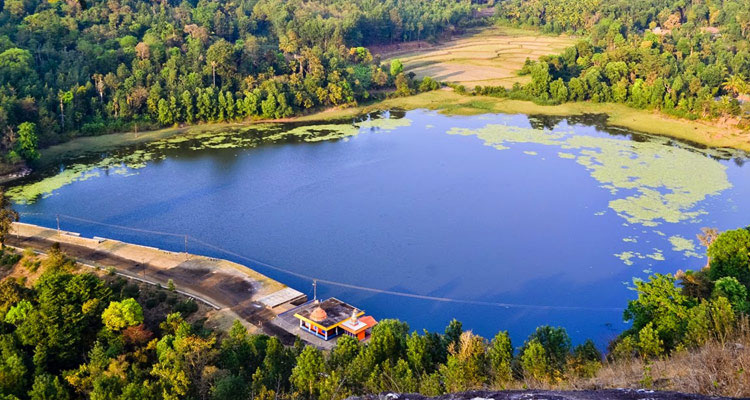 Honnamana Kere (Honnama Lake) (Kannada: ಹೊನ್ನಮ್ಮನ ಕೆರೆ) is a popular tourist spots in Coorg. Being the largest lake in the region of Coorg, Honnamana Kere attracts hordes of tourists every year. It is located in Daddamalthe, near to the village of Sulimalthe which is at a distance of 6 km from Somwarpet town. Somwarpet is one of the taluks of Coorg.
The lake doesn't attract just nature lovers but also religious tourists. It has religious importance and is named after the after Goddess Honnamma. One can also see a temple dedicated to Goddess Honnamma, located near to the lake.
It is believed that Goddess Honnamma sacrificed her life for the wellbeing of the people. The temple sees many visitors especially during the festival of Gowri Pooja. Many newly wedded couples visit the lake and pay their offerings and seek blessings of the Goddess.
The Lake offers captivating scenic beauty as well. It is a place where one can just relax and enjoy some quality moments with their loved ones. It is surrounded by mountains, cliffs and huge expanse of coffee plantations along with two hills named Gavi Betta and Mori Betta. Along with sightseeing, one can also engage himself/herself in various kinds of outdoor activities such as boating and fishing.
After having some good time at the lake, tourist scan visit other beautiful tourist spots in the town of Somwarpet. Some of the places worth visiting are Mallalli Falls along with wild life sanctuaries named as the Pushpagiri Wildlife Sanctuary.
06

. Omkareswara Temple, Coorg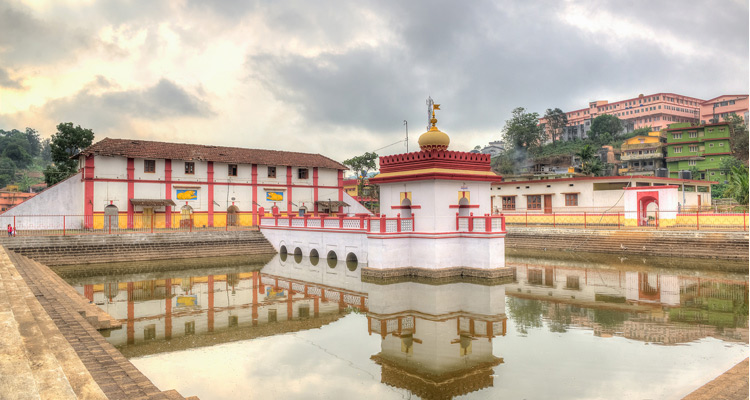 Omkareswara Temple, the famous Siva temple in Madikeri is built by Linga Rajendra in 1820. The temple located at a distance of 1 km from Madikeri is an architectural beauty. The temple has both Islamic and Gothic style of architecture.
There is a wonderful pool in front of the temple. There are four Minarets around and a dome in the centre of the temple. A footpath leads to the Mandap. Here the Sivalinga was named as Omkareswara. Regular rituals were performed here.
07

. Kotebetta Trek / Peak, Coorg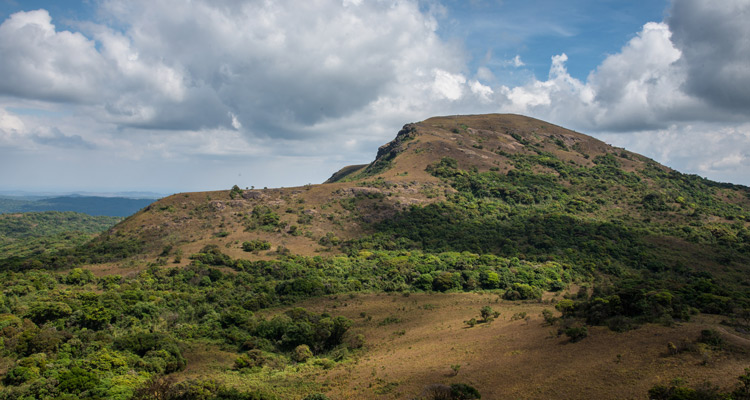 One of the popular tourist spots in Coorg, Kotebetta is third highest peak in Coorg region after Tadiyandamol and Brahmagiri. At a height of approximately 1620 m above the sea level, Kotebetta is situated in Madapur which is located between the Somwarpet and Madikeri towns. It is at the border between the Dakshina Kannada and Coorg districts and can be easily reached without much of a hassle.
The name of Kotebetta has been derived from word Kote Betta which means Fort Hill. This is because the hill resembles a fort in its appearance. One can also find a temple dedicated to the Lord Shiva at the peak of the hill.
Kotebetta offers tourists with amazing trekking opportunities. It is 10 km away from Hattihole. Tourists start their trek from the Hattihole and ends at the peak. Along with lush greenery and especially huge expanse of coffee estates accompany you on your trekking.
The captivating natural settings make trekking all the more enjoyable and refreshing. The peak offers mesmerizing view of the area around making the trekking worth all the efforts.
The best time to go for trekking at Kotebetta is during the months of October to March. One doesn't require any official permission from authorities to go for trekking at this place. While going for trekking, it is better to have a guide with you.
Do carry all the necessary equipment as well such as torch; wear proper shoes, insect repellents along with a first aid kit.
08

. Madikeri Fort, Coorg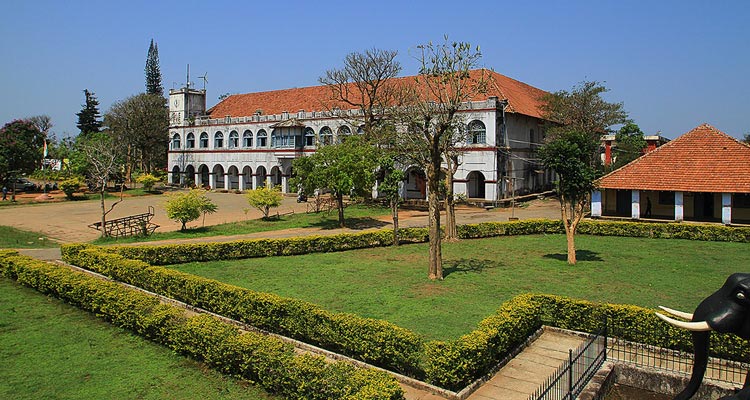 Madikeri Fort is one of the tourist spots in Coorg which you can't afford to miss. First built in the last quarter of 17th century by Mudduraja, Madikeri Fort was later renovated with stones and bricks by Tipu Sultan who named the fort as Jaffarabad. The fort has rich history and has seen many battles and successions.
It was under the control of Doddavira Rajendra in 1790. Later it was renovated by the King Lingarajendra Wodeyar II. British also reconstructed the fort twice. In the year 1933, British added a clock tower and a portico to park the commissioner's car in the fort's complex. Now, the fort is being used as the office of the Deputy Commissioner.
At ten entrance of the fort, you will see two life-sized elephants which are made of mortar. There was a temple as well inside the fort dedicated to Virabhadra which was later removed in the year of 1855 by the British. They built an Anglican Church in its place which is also a beautiful architectural work.
The Church presents beautiful architecture with Gothic style. The church is not a museum presenting tourists with different kinds of antiques and is run by the state archaeology department.
The fort has many other buildings as well such as Mahatma Gandhi Public Library, the Kote Maha Ganapathi temple and the district prison. The temple Kote Maha Ganapathi is one of the temples that participates in the Madikeri dasara festival.
09

. Mallalli Falls, Coorg
Located at the foot of Pushpagiri Hill Ranges, Mallalli Falls are one of the best places in Coorg to spend some time. It is situated in Bettadahalli Gram Panchayat of Somwarpet which is one of the taluks in the district of Coorg. Mallalli Falls are created when River Kumaradhara drips down from the peak of Pushpagiri Peak, which is over a height of approximately 200 feet.
These falls are also good for trekking. Trekkers will come across interesting routes with beautiful settings around them which makes the experience all the more interesting and enjoyable. However, there are many leeches on the routes so it is better to be prepared for them while trekking. The falls at the foot of Pushpagiri peak and trekking till the peak, enhances your overall Coorg experience.
To reach the Mallalli Falls, one can hire a private taxi well from any of the nearby towns. The falls are 25 kilometres away from Somwarpet and 42 km away from Kushalnagar. If not interested in private transportation, you can also take public transportation.
You will get buses from Hanchinalli, the nearest village to water the falls from Somwarpet. Another village Bidalli is also just 2.3 km from the waterfalls and can be reached from any of the towns.
The best time to visit the falls in during the monsoon season and between the months of July to December. During monsoon season, there is more water in the falls making it look more beautiful and refreshing. Even the greenery around is at its best during this time.
10

. Mandalpatti Trek, Coorg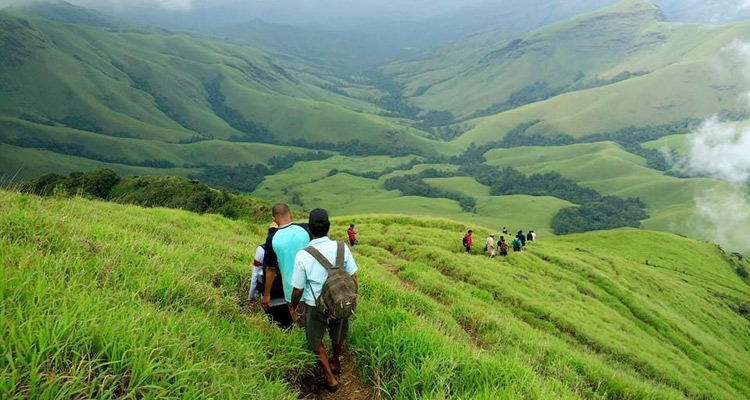 Located 4 km before Abbey Falls, Mandalpatti is at a distance of 25- 30 km from Madikeri town. Offering amazing scenic beauty and perfect opportunities to be amidst the best of natural settings, Mandalpatti is increasingly become popular amongst tourists.
The place offers tourists with some seclusion and space away from the usual crowdedness of the tourist spots. The place is perfect for trekking lovers and who like some adventure and seek best of natural settings. In order to go trekking, trekkers are supposed to take entrance tickets from the authorities at the base of Mandalpatti.
The trek presents trekkers with beautiful scenery and rich flora and fauna. However, you won't find any facility on the route. So it is better to carry items like water and food as well other equipment for trekking with you.
For reaching Mandalpatti, tourists must take the deviating road which is 4 km before the famous Abbey Falls. No bus service is available for Mandalpatti and thus one if required to hire his or her private vehicle. Visiting during the rainy must be avoided as the route is not completely developed and thus can be risky and slippery.
It is best to visit during the months of November to January. Although the place is covered with the mist during this time, Mandalpatti offer picturesque setting. You will be amazed with view of the area around from the top of Mandalpatti.
11

. Nalknad Aramane Palace, Coorg
Located near a village named Yavakapadi Nalknad Aramane is in the kakkabe town of the Coorg region. It is situated at a distance of 45 km from Madikeri town. It has built in the year of 1792 by Dodda Virarajendra who was a Haleri ruler Dodda Virarajendra. Later in the year of 1796, Dodda Virarajendra married Mahadev Ammaji here.
He built the palace after he escaped from the Tippu sultan's troops and thus there in an underground tunnel inside the palace which originates from here and ends at Madikeri. Its location which is at the hilltop was also added advantage.
There are many different stories related to the place depicting various historical events. The last emperor of Haleri family Chikkaveera Rajendra also took shelter during the time of British invasion of the Coorg district.
The palace is an impressive structure and thus makes for an interesting visit. Its roofs and walls have been adorned with many ancient paintings and carvings. There is a gigantic gateway at the place. Inside the palace, you will find a kalyana mandapa which is a platform to hold marriage ceremonies.
The durbar of the place has also a charm of its own. Here kings used to have their meetings as well as watch performances. At the basement of the palace, you will find two 'dark rooms'. These rooms were used as a hiding place for the king.
12

. Nehru Mantap, Coorg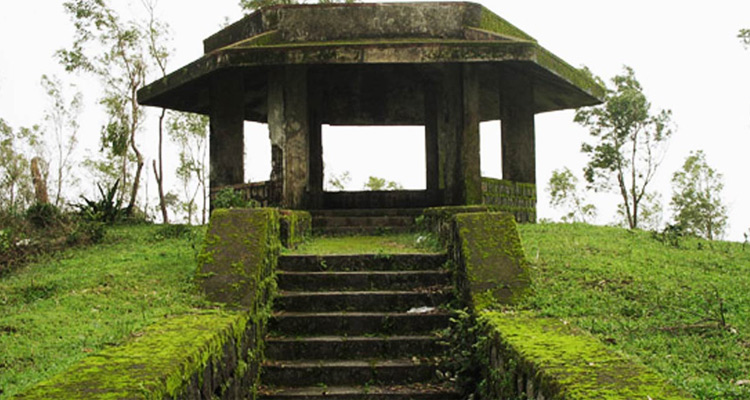 A lesser known but amazing tourist spot, Nehru Mantap is located in the town of Madikeri in the vicinity of Raja's Seat. The mantap presents amazing view as it overlooks the Madikeri Radio Station. You get view of the mountain located at a distance along with captivating view of the town.
The place is worth a visit, especially for nature lovers. If you are looking some time alone or away from the usual crowd and rush, Nehru Mantap is the place for you. Enjoy some calm and peaceful time amidst refreshing natural setting creating a serene and soothing environment. Sunset and sunrise is exceptionally beautiful from here and worth capturing in your cameras.
Located on a hill top behind the Madikeri radio station, it is quite easy to reach this place. Tourists are required to climb approximately 25-30 steps. From Raja's Seat, it will take you maximum of 10 minutes of walk to reach here.
The place offers amazing silence and peace and thus perfect to refresh oneself. It is generally said to be a place especially for artists who can sit here and create their piece of art as they are accompanied by nature and nobody else.
Apart from this, there are many other popular tourist spots in Madikeri town such as Raja's Seat, Madikeri Fort, Omkareshwara temple and Abbey Falls/Abbi Falls.
13

. Padi Iggutappa Temple, Coorg
The Padi Igguthappa Temple is situated in the Kakkabe town. Built by Lingarajendra in the year of 1810, it is one of the most ancient temples and of utmost importance amongst Kodavas. Located in the Igguthappadevara Betta in Aiyengeri forest, the temple is 45 Km from Madikeri city and towards Virajpet. Dedicated to Lord Iguthappa which is another name for Lord Subramanya, the temple resembles to the Keralite temples in architectural design.
The temple plays an important role in the culture and traditional practices of Kodavas. The temple according to Kodavas holds magical powers and fulfils wishes of devotees. During the month of March, an annual festival is held at the month.
During the festival, devotees come together and offer special prayers to the deity. A procession of the God to the top of Mallama Betta Hill is carried out and later the same is reinstalled in the temple. Various ceremonial dances and performances are also performed during the festival.
Offering at the Igguthappa Temple is made in a unique way where devotees weigh weight themselves against fruits, sugar, coconuts, rice, etc. The temple plays a key role during the harvesting festival as well which is known as Puthari festival.
For reaching the temple, one can take private bus services. There are many private buses running from towns such as Madikeri, Virajpet and Napoklu. However, if one needs more comfort, he or she can opt for private vehicle as well.
14

. Raja's Seat, Coorg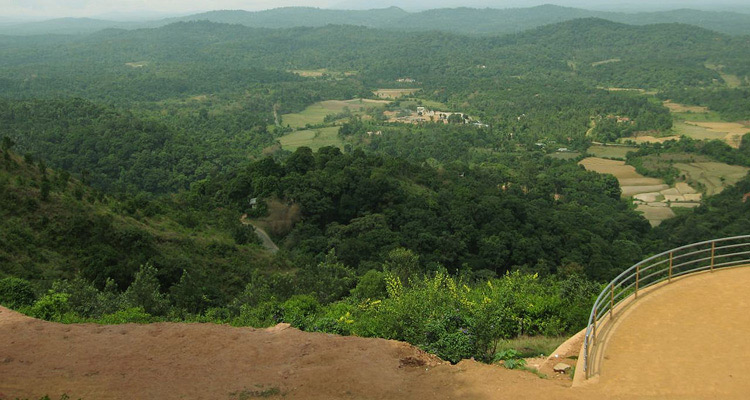 Located in the town of Madikeri, Raja seat is a popular tourist spots offering them with mesmerizing scenic beauty and enchanting environment. With a literal meaning of "Seat of the Kings", Raja's Seat used to be a favorite place of kings of Coorg.
They used to visit the place so as to get amazing view of the valley around and refresh themselves. The view of sunset and sunrise from Raja's seat is exceptionally captivating and mustn't be missed by tourists. Golden sunlight falling on the lush greenery offers amazing photographic opportunities as well. The environment is pleasant as well.
The calmness of the place and its scenic beauty makes for an amazing setting for morning and evening walks. Imagine being caressed by cool breeze and greeted by lush greenery. All this is possible at Raja's Seat.
The experience tourists will have here is worth remembering. The place is now an amazing park. To the left of the park, Gandhi Mantap is located where remains of Mahatma Gandhi have been kept. An area for children's amusement makes it perfect for family outing as well.
There is a toy train as well which goes around the Raja Seat. This is something which attracts both children as well as adults. Along with enjoying a wonderful ride, one can also relish delicious snacks inside the train. A minimum entry fee of Rs. 5/- per person is charged for entering the park.
Madikeri town has many other tourist spots as well such as Madikeri Fort, Omkareshwara temple and Abbey Falls/Abbi Falls.
15

. Somwarpet, Coorg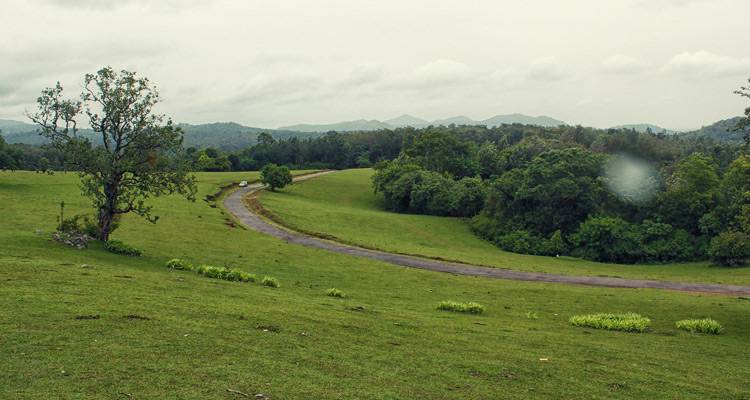 One of the many tourist spots of Coorg, Somwarpet is a place worth visiting. The town has many interesting tourist spots for one to go and spend few memorable moments. Like other small towns of Coorg such as Madikeri, Kakkabe, Kabini, Siddapur, etc. Somwarpet also promises enjoyment and relaxation.
A village named Doddamalthe is located at a distance of 6 km from Somwarpet presents amazing sight-seeing options. It has a captivating and serene lake - Honnamana Kere which is apparently the largest lake in Coorg region. The area around the lake is also mesmerising with lush greenery, soothing atmosphere and huge spread of coffee estates.
It has high importance amongst people of Hindu faith. People from various parts come here, especially during the festival of Gowri when a special pooja is held and offerings are made to the Goddess Honnamma.
Along with these, for nature lovers, Somwarpet also has one of the three wildlife sanctuaries of Coorg. The Pushpagiri Wildlife Sanctuary in located in Somwarpet. The sanctuary offers its tourists with rich flora and fauna. With amazing routes with varying level of difficulty, it is a trekker's paradise as well. All the bird watchers also will have good time here spotting some interesting avian creatures.
The waterfalls in Somwarpet, Mallalli Falls also makes for an interesting visit. Mallalli falls with its beautiful white streams of water and lush greenery all around create a refreshing setting for tourists to spend some time.
16

. Suntikoppa, Coorg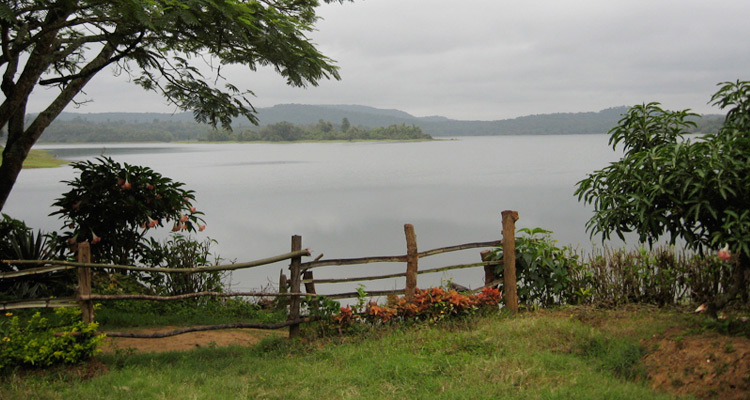 On your to Coorg, apart from visiting the famous tourists spots, one must explore the region as much as possible. The district is strikingly beautiful which can be seen in its each and every corner. One of the best examples is Suntikoppa/Sunticoppa. Located on the road to Kushalnagar, Suntikoppa is 15 km east of Madikeri.
The place offers amazing setting for spending some memorable moments with your loved ones and to relax. It makes for a good picnic spot and thus perfect for family day out as well. It is quite popular amongst tourists for the huge expanse of coffee and spices plantations.
The place with its mesmerizing scenic beauty is perfect for nature lovers. You can find various kinds of migratory and resident birds as well. Thus, it is good spot for bird watchers as well.
Religious tourists also visit the place as there is an Ayyappa Temple. The temple holds quite an important place and thus attracts many tourists from everywhere.
One can reach Suntikoppa by driving towards Kushalnagar as this is 15 km away from Madikeri. If one is interested, he or she can stay as well in one of the many accommodation facilities available here. There are many options to choose from such as cottages, homestay, hotels, etc.
The region of Coorg, offers tourists many sightseeing options along with a rich flora and fauna and umpteen numbers of adventurous sports.
17

. Tadiandamol Trek, Coorg
Second highest mountain in Karnataka state, Tadiandamol is the highest peak of Coorg district. At a height of approximately 1746 meters above sea level, it is located 8 km from the town of Kakkabe and approximately 35 km from Madikeri. It is 30 km away from Virajpet and lies in the south-eastern part of Coorg.
An amazing place for trekking, the peak is one of the most popular tourist spots in Coorg. The best time to go for trekking is during early winters. It offers tourists with mesmerizing scenic beauty and captivating view of the areas around creating nothing less than a paradise for nature lovers. The best time to visit Tadiandamol is during the months of December to May.
Reaching Tadiandamol is an adventure in itself. Tourists can take private vehicle like jeeps and cover almost one third of the distance. To reach the top most point, one is required to trek through a steep path. The trekking till the peak is not easy and can be tiresome. On their way to the peak, trekkers can have a halt at the Nalknad Palace, which is good option for base camp at night.
It was Dodda Veera Rajendra in 1792 and is two storied and is now maintained by the state archaeology department. Trekkers can resume their climbing in the morning. There is a steep path from the palace which eventually leads to the peak.
One can also visit Padi Igguthappa temple from the Tadiandamol. One of the important temples for Kodavas, it is situated just few kilometers away.
18

. Talakaveri Temple & Waterfalls, Coorg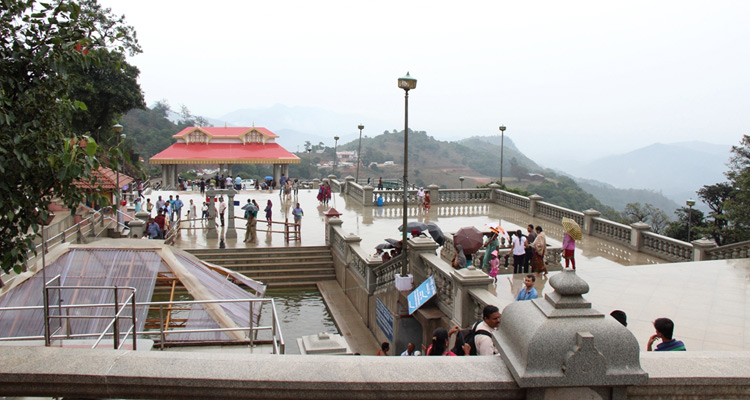 Talakaveri / Talacauvery, one of the popular tourist spots is located in the Brahmagiri hill. The hill is situated 8 km away from Bhagamandala and is 48 km away from Madikeri. It has high religious importance and is visited by many tourists every year.
Located at a height of 1276m above sea level, there is a small spring called as a Tirtha kundike or Brahma kundike here in Talacauvery. It is said that this is source of River Cauvery. Although the source of water is mostly invisible, one can see it generally during the rainy season. It is believed that spring flows underground and emerges after a short distance.
There is a shrine located quite close to the kundike. There is a huge tank as well where devotees take bath before offering their prayers to the deities. There are two temples as well. One temple is dedicated to Lord Shiva with an ancient Shiva Linga while another temple is dedicated to Lord Ganesha.
Religious tourists can also see the holy Ashwantha tree where sage Agastya saw holy avatars of Lords-Brahma, Vishnu and Mahesh.
It is best to visit the place during the month of October. Many pilgrims visit the shrine during this time as festival of Sankaramana is celebrated during this time. At this time, one can see the small well with water symbolising the appearance of the Goddess Cauvery.
From Talakaveri, one can go to the Brahmagiri peak which is also a holy place as according to legend seven great sages called the Sapta Maharishis performed a special yagna at this place. The view of the valley from the peak is also mesmerising.
19

. Dargah Sharif of Yemmemadu, Coorg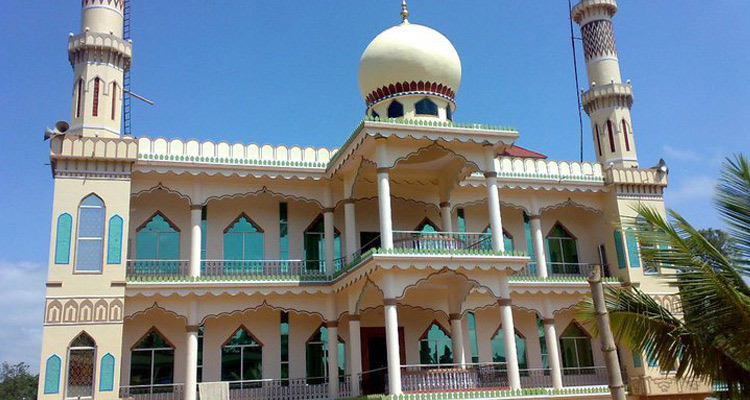 One of the most sacred shrines, Dargah Sharif of Yemmemadu is situated in Yemmemadu near Napoklu of the Coorg district. The Dargah hold huge importance amongst people with Islamic faith. The holy tomb has been built in the memory of Hazrath Sufi Shaheed and Sayyed Hassan Sakaf Halramir.
Both these Sufi saints arrived from Persia almost 366 years ago. They offered people with religious discourses and dedicated their life for the betterment of the poor. And thus they spent their life serving them.
There is an annual festival celebrated here which is for 8 days. 'Urs' is organized in celebration of these saints. Hordes of religious tourists visit during this time to offer their prayers at the dargah and seek the blessings of Sufi saints. The number reaches almost two-three lakh. Food is being served on the last day of Urs to the devotees.
Female pilgrims cannot enter the dargah. There are separate arrangements made for females so that they can offer their prayers. Yemmemadu Tajul Islam Muslim Jamaat maintains the dargah and manages Urs. An Arabic Madrasa and an orphanage are also managed by the Yemmemadu mosque.
Reaching Dargah Sharif of Yemmemadu is not a difficult task. There are government buses running from Madikeri which is 35 km away from the dargah. One can either opt for these buses or go for private transportation based on his/her preferences and comfort. One can hire a private vehicle and travel as per their convenience.
20

. Karada Village near Coorg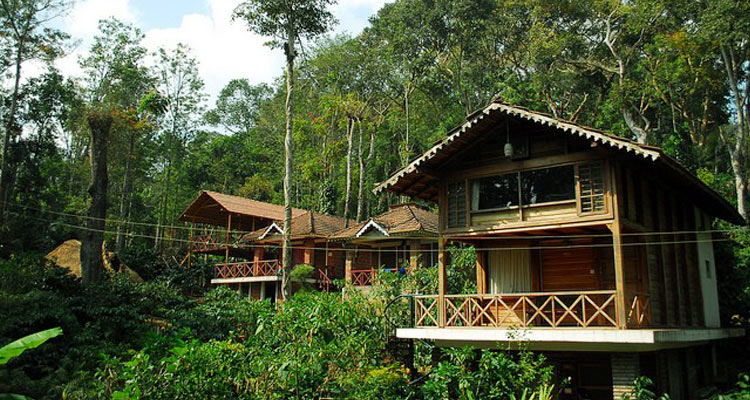 The district of Coorg offer tourists with national park, wildlife sanctuaries, waterfalls, museums, forts, lakes, viewpoints and many other options. A visit to Karada completes your Coorg trip. Karada is a village in the Kakkabe region. It is situated at a distance of 18 km from Virajpet and approximately 30 km from Madikeri.
As the place is not as popular as other tourists spots, tourists gets enough seclusion and calmness away from usual hustle bustle. It offers tourists with mesmerizing natural beauty and refreshing environment. Huge expanses of coffee-estates cover the area making it even more beautiful.
The place has some of the best ancestral homes of Coorg. Some of the ancestral homes are 200-300 years old presenting tourists with a touch of history and ancient living. These homes promise a different experience and staying there for few days is something everyone must try. There are few ancestral homes offering tourists with the opportunity to spend few days in utter peace and living an authentic Coorg lifestyle.
Tourists are provide comfortable stay, mouth-watering Coorg Cuisine and relaxed atmosphere at these ancestral homes. Some of the examples of the same are Iyne Mane which is almost 250 years old, Nadikerianda Aine house which is again almost 200 years old and many others. The place is also good for nature walks and offers good trekking routes.
21

. Gaddige or Raja's Tomb, Coorg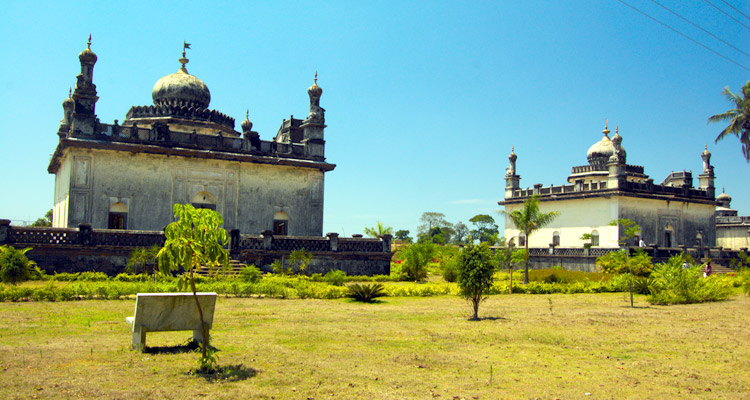 Gaddige also known as Gadduge, the tombs of King Virarajendra, Linga Rajendra and one of their court priests was built in the 18th century. This tombs rest in the northern corner of the town is an important monument of the town.
There is two smaller tombs located in the same area belonging to their brave and loyal soldiers. The three main tombs, with a dome in the center and turrets at each end, built separately from one another on a hillock resemble a Muslim pilgrim center. From here a spectacular view of the town can be seen.