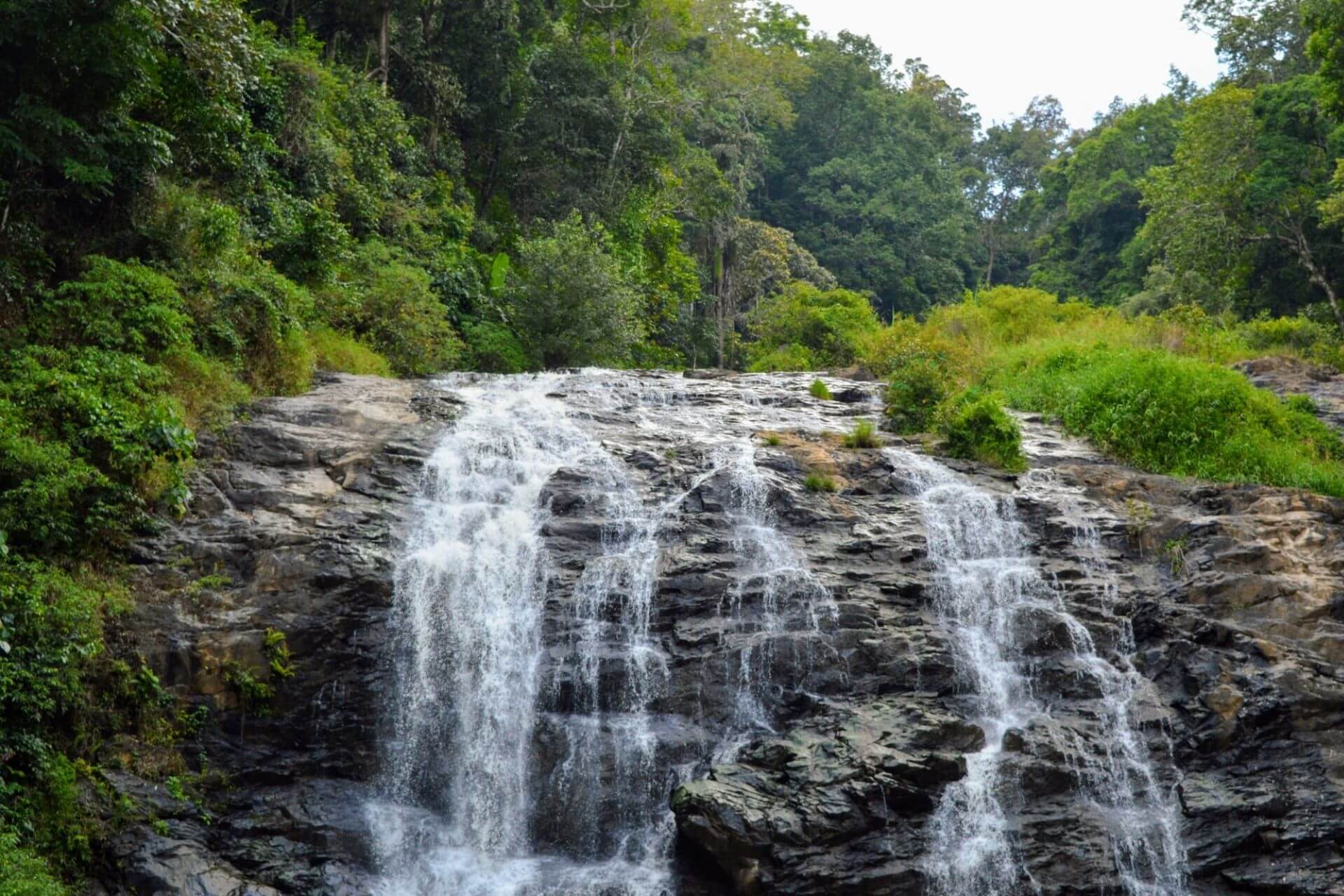 Abbey Falls Coorg Entry Fee
15 per person
10 - 50 for Vehicle Parking Fee (depending on the type of vehicle)
Abbey Falls Coorg Phone
N/A
---
Rating:
| 4/5 stars
Based on total 66 reviews
Abbey Falls Coorg Address: Madikeri, Hebbettageri, Coorg, Karnataka, 571234, India
---
The Kashmir of Karnataka, Coorg, the land of coffee and awestricking nature, is the home for some of the most beautiful waterfalls in the state. These waterfalls in Coorg add on to the picturesque setting and pleasant weather making your Coorg tour all the more memorable.
Abbey Waterfalls is one of the worth visiting sightseeing places in Coorg. Its scenic charm, coupled with aromatic plantations of coffee and spices and peaceful surroundings deserve to be not just visited but remembered by every traveller.
About Abbey falls
Also known as Abbi Falls, Abbey Falls, located near Madikeri, is a perfect place to visit in Coorg not only for nature enthusiasts but for shutterbugs as well. It is also one of the most sought tourism place with our Coorg honeymoon packages The sight of water falling from a cliff with a height of 70 feet, surrounded by lush greenery is indeed a sight that will behold everyone's attention.
The waterfall is a combination of many streams that come together and fall into a pool of water that flows and merge into River Kaveri. The scenic grandeur of Abbey Falls increases by many folds in monsoon. During Monsoon, the stream of water becomes thicker with louder roar. Adding to it is the richer greenery around, which does create sight of a lifetime.
Nestled between the coffee and spice plantations, the waterfalls is opposite to a hanging bridge. The view from the hanging bridge is one of the major attraction. Aromas of coffee and spices intermingled with the refreshing coolness of air makes the experience one of a kind.
The sound of water gushing down mixed with aromos filling the air greet you even before you get a view of the Abbey Falls. Visited by thousands of nature lovers every year, this tourist attraction near Madikeri is not to be missed when you are planning your Coorg tour.
While visiting the waterfall, you can plan a visit to many other interesting sightseeing places which are located nearby. Some of the tourist attractions near Abbey Falls are Madikeri Fort, Omkareshwar Temple and Brahmagiri Hills.
The area around the fall is ideal for trekking as well. So if you are looking for something adventurous, plan a thrilling hiking through the lush greenery. The place is idea for a family picnic as well.
Near the bridge there is a small temple dedicated to the Goddess Kali. As a part of their trip, many tourists visit the temple as well as seek Goddess's blessings.
Image Gallery of Abbey Falls Coorg
History of the Abbey Falls
Abbey Falls, which are also called Abbi Falls, was initially named as Jessy Falls. The first British reverend of Coorg when visited Abbey Falls fell in love with its unparalleled beauty. He then dedicated and named the waterfall as Jessy falls, after the name of his daughter.
Post independence, the waterfall and the area surrounding with its rich flora and fauna, came under the control of Government. Later, the area with the waterfall was bought by Mr. Neravanda B. Nanaiah from the Government, who then transformed in from a natural forest to cultivated farmlands with plantations of coffee and various spices.
The Abbey Falls, which was till then hidden amid the thickness of a forest, came upfront, mesmerising everyone with its sheer beauty. The waterfall is now located on a private property yet a popular sightseeing place in Coorg, attracting tourists throughout the year. The best way to visit this mesmerising hill station is with our all inclusive Coorg tour packages.
Location of Abbey Falls
Abbe Falls/Abbey Falls is located in Coorg region of Western Ghats in Karnataka. It is around 8 km away from Madikeri, while from the historical town of Mysore, it stands around 122 km away. The distance between Abbey Falls and Bangalore is 268 km and Holidays DNA offers customized Bangalore to Coorg tour packages at lowest prices.
A short walk, of around 200 steps, through plantations of coffee and spices like cardamom, pepper, etc., take you to the Abbi Falls.
Timings and Entry Fee of Abbey Falls
Abbey Falls is open for tourists on all days of the week. The visiting Timings of Abbey falls is from 9AM to 5PM. There is a minimal entry fee of Rs.15 per person to visit the falls and a typical visit to the falls takes 2-3 hours of time.
Best time to visit Abbey Falls
The best time to visit Abbey Falls is undoubtedly the monsoon season, when its scenic beauty is at its best. One can plan a visit between the months of July to October. Although while visiting during monsoon, traveller must be careful of the slippery roads. Post monsoon is also an ideal time to visit the falls.
Things to remember while visiting Abbey Falls
There are a few things to keep in mind while visit Abbey Falls, which will make your trip all the more hassle free. If you are visiting the falls during monsoon, do look out for slippery steps and small insects and leeches.
To reach the bottom of falls, one has to climb stairs hence it is advisable to keep your medical aid handy if in case you suffer from any breathing ailment. Bathing in the waterfall is not allowed for various safety reasons.
Although on the way to Abbey Falls, you will find a few roadside food stalls selling tea, coffee, water and snacks, it is advisable to carry a water bottle and something to nibble if you plan to spend a couple of hours near the fall.
How to reach Abbey Falls
Located at a distance of 8 km from Madikeri, Abbey Falls can be reached by road from Madikeri. From Madikeri, the travellers needs to go through Galibeedu road to reach the location, from where they will need to walk on foot. One can either hire a taxi from top car rental companies in Coorg or drive in their own vehicle from madikeri.
For reaching Madikeri, there are many modes of transportation from cities nearby. If you are travelling by road, you can opt for one of the many regular buses (private or KSRTC buses) from Bangalore, Mysore and Mangalore.
If in case, you are travelling by train, then you can get down at Mysore railway station, which is the nearest railway station to Abbey Falls. From Mysore you can either hire a taxi directly to Abbey Falls or take a bus to Madikeri. At Madikeri you will find local transport till the waterfall.
Location Map for Abbey Falls Coorg