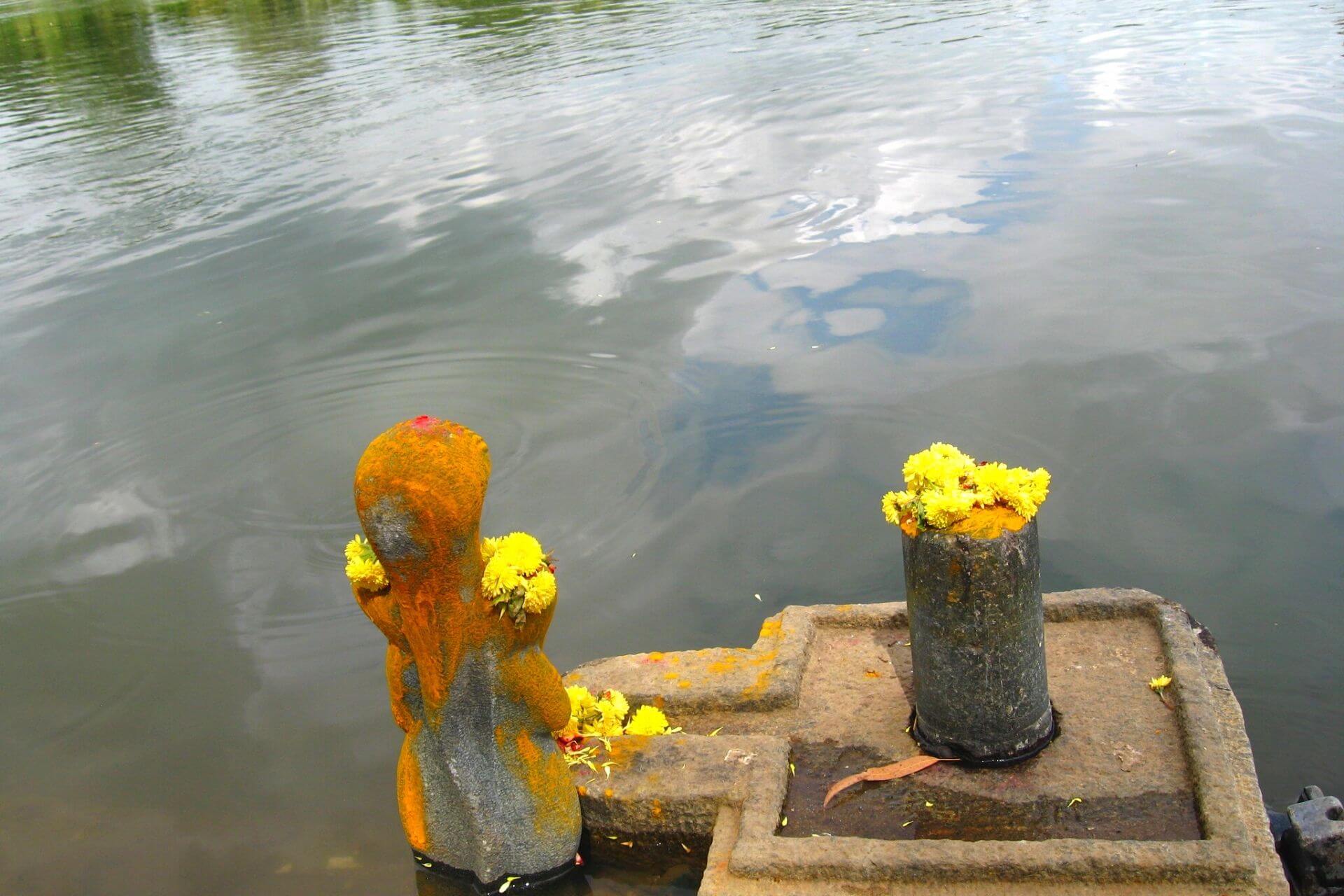 Bhagamandala Triveni Sangam Coorg Entry Fee
Bhagamandala Triveni Sangam Coorg Phone
N/A
---
Rating:
| 4/5 stars
Based on total 53 reviews
Bhagamandala Triveni Sangam Coorg Address: Madikeri-Tala Kaveri Rd, Bhagamandala, Coorg, Karnataka, 571247, India
---
Located in the Western Ghats, Coorg is one of the beautiful hill stations in Karnataka. Its unsurpassing scenic beauty justifies the name it has been given, Scotland of India.
With lush greenery spread like a blanket of nature, blooming flowers decorating its every corner, waterfalls filling the atmosphere with a refreshing thunder, Coorg does make an ideal holiday destination.
There are an umpteen number of sightseeing places in Coorg that can be included in your Coorg tour packages. One such place to visit in Coorg is Bhagamandala Triveni Sangam. It is nature combined with spiritual significance, making it a place worth visiting by all.
Irrespective of the purpose of your tour, whether you are opting for a Coorg Honeymoon package or a religious tour or an adventure travel, it is advisable to not miss visiting Bhagamandala Triveni Sangam. Located around 35 km away from Madikeri, Bhagamandala lies at the foothills of Talacauvery, which is the origin of River Kaveri.
Triveni Sangam or Bhagamandala, symbolises merger of three rivers, as tri stands for three and veni stands for streams. This holy confluence brings Kaveri River, Kannike River and Sujyoti River together. Sujyoti River is a mythical river which is believed to be flowing inside the earth; it later merges with other two at the sangam, eventually flowing further with them.
Tourists come and visit this place not only to witness its scenic beauty but to take a holy dip in the waters of Triveni Sangama. Many pilgrims perform various religious activities for their ancestors here at the sangam and then proceed to Talakaveri which is said to be the origin of River Kaveri.
It is also believed that a holy bath in the sangam is spiritually uplifting for the devotees. The water of Triveni Sangama is believed to provide peace to the souls of the deceased ones.
History of Bhagamandala Triveni Sangam
The formation of Bhagamandala Triveni Sangam has a legend associated with it. There is a legend behind the origin of River Kaveri or Cauvery. As per the beliefs, Sri Cauvery was the foster daughter of Sage Kavera Maharshi. Kavera Maharshi, didn't have a child so he prayed to Lord Brahma, who in turn blessed him with a daughter.
An incarnation of Adi-Shakti, Lopamudra, was the foster daughter of Lord Brahma. She was given to him by Lord Mahavishnu. Lopamudra also had the blessings from Lord Brahma according to which she could turn into a river and serve the humanity when needed.
At the valley of Brahmagiri, Lopamudra was brought up with much love and affection by Maharshi Kavera and hence was called as Kaveri. She grew up in the ashram, learning the duties and serving them with devotion. One day, Saint Agastya Maharshi visited their Kavera ashram and saw Sri Kaveri.
Impressed with her beauty, dedication and divine purpose, he expressed his wish to marry Sri Cauvery, who agreed on a condition that Sage Agastya Maharshi, an incarnation of Lord Shiva, would never leave her alone. Later, their wedding was organised at the Kavera Ashram.
The divine married couple lived in harmony and love, when one day Saint Agastya Maharshi went for a bath near Kanika River, at the other side of Brahmagiri Hills. Before embarking his journey, he turned Sri Cauvery into water and placed her in his holy pot- Kamandalu.
He then left the pot near Brahma Kundige, Kavera Ashram. Instructing his disciples to look after the pot when he is away, he left the ashram. However, he couldn't return on time while Sri Cauvery waited for him at the ashram.
Sage's absence troubled her, owing to which she decided to embark on her divine journey. Hence, she came out of the kamandalu and merged herself into Brahma Kundige, a sacred pond.
From there she took an underground path and eventually flowing to Bhagamandala where she met two other rivers named Kanika and Sujyothi, forming the holy Bhagamandala Triveni Sangama.
Later, when Sage Maharshi Agastya was informed of the incident, he decided to bring back his wife, Sri Cauvery. He started his journey to meet Kaveri and stop her journey.
Around 37 km away from Talacauvery, at Balamuri, he met Sri Cauvery and tried to convince her to return back to the ashram. However, Sri Cauvery was aware that her arrival is awaited at Balamuri where Sri Devakanta, King of Kodagu and its citizens have gathered to welcome her and seek her blessings.
Hence, she decided to divide herself in two parts so that one of her bodies can be with Saint Agastya at the ashram and the other part can flow as river, blessing the people of Kodagu.
Sri Kaveri River, which is also referred as the Ganga of the South or Dakshin Ganga, is also the family deity/kula-devi of people in Kodagu.
Image Gallery of Bhagamandala Triveni Sangam Coorg
Places To Visit near Bhagamandala Triveni Sangama
The most popular sight to visit near Bhagamandala Triveni Sangama is the Sri Bhagandeshwara temple. Built by the Cholas, this temple receives thousands of devotees every year.
Madhuvana, a honey marketing center in Bhagamandala is one of the famous bee rearing centers in the state. It also houses a museum showcasing equipment required for bee rearing.
For trekking lovers, a visit to Mount Thavoor is a must. Overlooking Bhagamandala and Mt.Koppatti, this peak presents a memorable view of both along with a worth experiencing adventure.
Another place to visit near Bhagamandala Triveni Sangama is Talakaveri Wildlife Sanctuary. Nestled in the western ghats, this sanctuary offers a rich flora and fauna to explore. Tourists can opt for a safari ride to the sanctuary and enjoy the sight of untouched nature.
How to reach Bhagamandala Triveni Sangama
Bhagamandala is located around 35 km away from Madikeri. It is well connected by road from Madikeri, Virajpet and various other towns and cities of Karnataka and Kerala state. Tourists can either take a locally run government or private buses or travel in their own vehicles. They can also book a private cab from top car rental companies in Coorg to reach the place.
Tourists can also travel Talacauvery by road from Madikeri, which takes around one and half hours. From Talacauvery, Bhagamandala is 8 km away.
Location Map for Bhagamandala Triveni Sangam Coorg