Situated amidst the stunning mountains in Karnataka, Coorg is a one-stop destination for holidaymakers of all ages and has everything you need to relax, unwind, and de-clutter your mind soulfully, far away from the chaotic city life. Also known as the Scotland of India, this hill station is blessed with breathtaking sceneries and unseen wonders that will keep you coming back to this place time and time again.
Perfect for individuals, couples, and families with children, Coorg offers excellent views throughout the year and bestows a soothing climate to please your body as well as the inner soul. The amazing combination of misty landscapes covered in lush greenery adds an overall charm to its unparalleled beauty and the tranquil setting allows you to return home refreshed after a short or a long break.
Enjoy a stroll around the heritage sites and ancient architecture to step back into the past and learn more about history. Head to the holy temples to seek blessings from the presiding deities. Pay a visit to the coffee plantations to discover the aroma of the coffee beans in the true sense. Explore the fine-dining restaurants to relish the flavors of mouth watering delicacies. Or spend some time shopping to buy some souvenirs and other goodies for your loved ones.
This hill station also encompasses several lakes, waterfalls, wildlife sanctuaries, peaks, national parks, and other places that are worth exploring on your trip. All-in-all, it won't be wrong to say that your Coorg tour will keep you occupied all the time as it has so many things to do and see during the day and in the evening.
However, to have the best time of your life, you need to visit only the most popular places on your 1-day visit to Coorg. Keeping everyone's varied holiday requirements and budget in mind, we at Coorg Tourism, a division of Holidays DNA, have listed out the places you can visit during your 1 day Coorg trip. These are as follows:
Coorg Places to visit in 1 Day - Option 1: Mandalpatti, Dubare Elephant Camp, Golden Temple, Nisarghdhama, Harangi dam, Chikliholle dam
Coorg Places to visit in 1 Day - Option 2: Talacauvery, Bhagamandala, Abbey Falls, Madikeri fort, Gaddige park, Omkareshwar temple, Raja's seat
Below we have shortlisted the top 5 tourist attractions that you just cannot ignore to miss at any cost: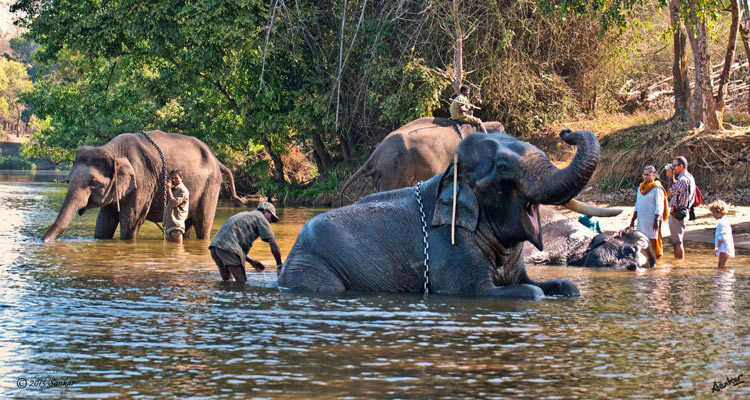 One of the popular tourist attractions to visit on your 1-day trip to Coorg is Dubare Elephant Camp. Situated on the banks of River Cauvery, the Dubare Elephant Camp invites people of all ages to spend a good amount of time with elephants from all over the nation by indulging in various activities like feeding, bathing, and riding them across the green forests.
It's a place where you can get to know everything including the history, biology, and ecology of this giant animal. It's a place where you can see how these majestic creatures live peacefully and enjoy the company of each other in their natural habitat. What else?
Other recreational activities such as Bird watching, River Rafting, and Trekking are also available at the Dubare Elephant Camp for your enjoyment. You can also take a coracle boat ride to spot the crocodiles, sloth bears, peacocks, gaurs, and the Wild Dog.
The entry fee to visit the Dubare Elephant Camp is INR 20 per person, but in case you're looking for a full day stay that includes breakfast, lunch, a nature walk, and elephant interaction, you would need to pay between INR 690 to INR 1330 as an Indian and between INR 1467 to INR 2270 as a foreigner. It is open for its tourists from 9:00 AM to 11:00 AM and then from 4:30 PM to 5:30 PM on all days and the recommended exploration time is 2 hours.
Another point of interest in Coorg is the Tadiandamol Peak, which is a wonderful spot for trekkers to try their hand at trekking and make the most out of it. It's the second-highest peak in Karnataka standing at an altitude of approximately 1748 meters high above sea level and is usually surrounded by dense shola forests and milky clouds, thus making the overall view look amazing and jaw-dropping from the top.
Here you can choose from the various types of trekking routes ranging from moderate to difficult and enjoy it to the fullest. In case you're new to this outdoor recreational activity, you can also give it a shot. It's a must-try experience for everyone. Also, the feeling you get after reaching the hilltop is something that cannot be explained in words.
Please note that there is no entry fee to visit the Tadiandamol Peak, but for trekkers, the package starts from INR 3050 onwards, and the ideal timings to witness its beauty would be from 6:00 AM to 6:00 PM on all days. It will take approximately 2 hours of your day to cover the trek.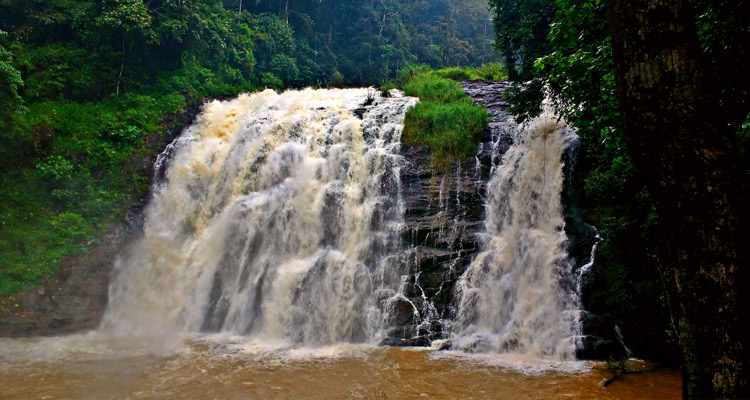 The next tourist destination that is worth exploring on your 1-day visit to Coorg is the Abbey Falls or Abbe Falls. Widely renowned as the most beautiful and distinctive waterfall, the Abbey Falls is a magnificent natural abode that lets you overlook the cascading waterfall falling from a height of 70 feet through a rocky steep path into a pool.
Perched at a distance of 10 km from Madikeri, Abbey Falls, situated amidst the verdant landscapes of the Western Ghats in between the refreshing coffee plantations, and spice estates, attracts wanderers, experience seekers, and nature buffs in large numbers every year.
It's known for its unparalleled charm and has everything you need to create some unforgettable memories with your loved ones. It is a hidden gem for all those who are ready to walk the extra mile to see the stunning views on their Coorg tour and is undoubtedly a great place for people to unwind away in tranquility.
The entry fee to visit the Abbey Falls is INR 15 per person and it welcomes its tourists from 9:00 AM to 5:00 PM on all days of the week. The recommended exploration time is 1-2 hours.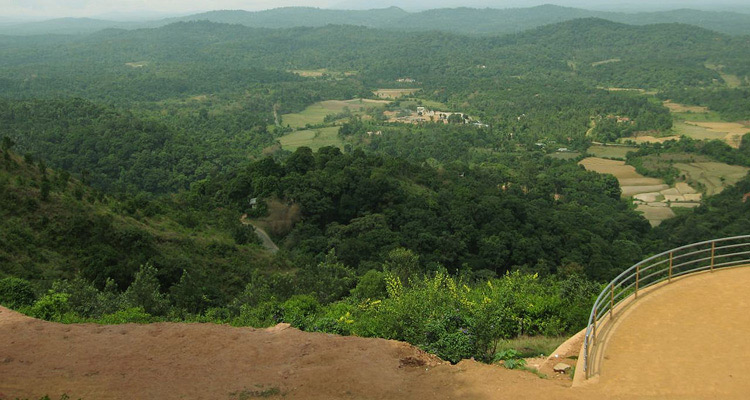 Perfect for admiring the serenity and scenery encompassed by the breathtaking views of the green valleys, towering hills, and the surrounding mountains, the Raja's Seat is a popular viewpoint for all those who wish to admire the natural beauty at its best.
It's a brick-and-mortar structure standing inside a splendid garden consisting of a variety of colorful flowers and a musical fountain. The garden looks even more enchanting and mesmerizing when the plants and flowers are in their fully blossomed phase, thus giving you a chance to spend more time here. Adding cherry on the cake is the musical fountain that dances to the rhythmic music as long as it is being played in the background. What's more?
The best time to uncover its picturesque beauty is either in the early morning or the evening at sunset hours. Watching the sun rising from the mist-laden valleys is undoubtedly a sight to behold for everyone. Similar scenery can also be experienced in the evening when the sun is about to sunset. For the entertainment of little guests, there is a toy train safari in which your children can comfortably sit and enjoy the complete tour of the Raja's Seat.
The entry fee to visit the Raja's Seat in Coorg is INR 5 per person and the preferred timings to pave your way towards it would be from 5:30 AM to 8:00 PM on all days. Once you reach the location, you can easily spend 1 hour here.
5. Pushpagiri Wildlife Sanctuary
Last but not the least, the Pushpagiri Wildlife Sanctuary is a popular wildlife sanctuary in Karnataka that attracts a huge influx of people especially nature-buffs, wanderers, and trekkers from all over the world.
Ideal for weekend getaways, the Pushpagiri Wildlife Sanctuary is a place where you can see a variety of rare and endangered species of birds such as Nilgiri Wild Pigeon, Grey Breasted Laughing Thrush, Blue-winged Parakeet, Malabar Grey Hornbill, and many more under one roof. Here you can also spot the wildlife animals like Elephants, Pigs, Spotted Deer, Indian Hare, Gaur, Sambar, Mouse Deer, Langur, Brown Palm civets, Indian Wild Dogs, and Bonnet Macaque along with a diverse range of reptiles and mammals.
Situated in Somwarpet taluk near Mandalpatti, the prime highlight of the Pushpagiri Wildlife Sanctuary is the Kumara Parvat that lies within it. Other attractions such as Mandalpatti Peak and Mallalli Falls can also be enjoyed here on your way back home. You can also indulge yourself in trekking, camping, safari, and photography in case you wish to spend more time at this sanctuary.
The entry fee to visit the Pushpagiri Wildlife Reserve in Coorg is INR 10 per person and it is open for its tourists from 6:00 AM to 6:00 PM on all days. The recommended exploration time is 3-4 hours.
---
"The Scotland of India" has a lot more to offer to its avid travelers than just a few of the above-mentioned places. These include Cauvery Nisargadhama, Golden Temple, Omkareshwara Temple, Chikli Hole Dam, Brahmagiri Hills, Nagarhole National Park, Madikeri Fort, Madikeri Palace, etc. However, exploring all the sightseeing places in Coorg would not be possible for anyone in just one day. But if you have time, you can always plan to extend your getaway to 2-days or 3-days in Coorg to cover the itinerary of your choice.
If interested, you can get in touch with our team of professionals to get assistance on the same. We at Coorg Tourism, a division of Holidays DNA, present a variety of all-inclusive Coorg tour packages that allow you to enjoy your Coorg tour at pocket-friendly prices. With us, you can also leverage the benefits of several travel deals or discount coupons along with customizing the package as per your choice of interest. For your convenience, our experts have also curated a list of top car rental companies in Coorg from where you can book a cab to commute within the hill station in your comfort. To know more about our services, we request you to fill out the Contact Us form.