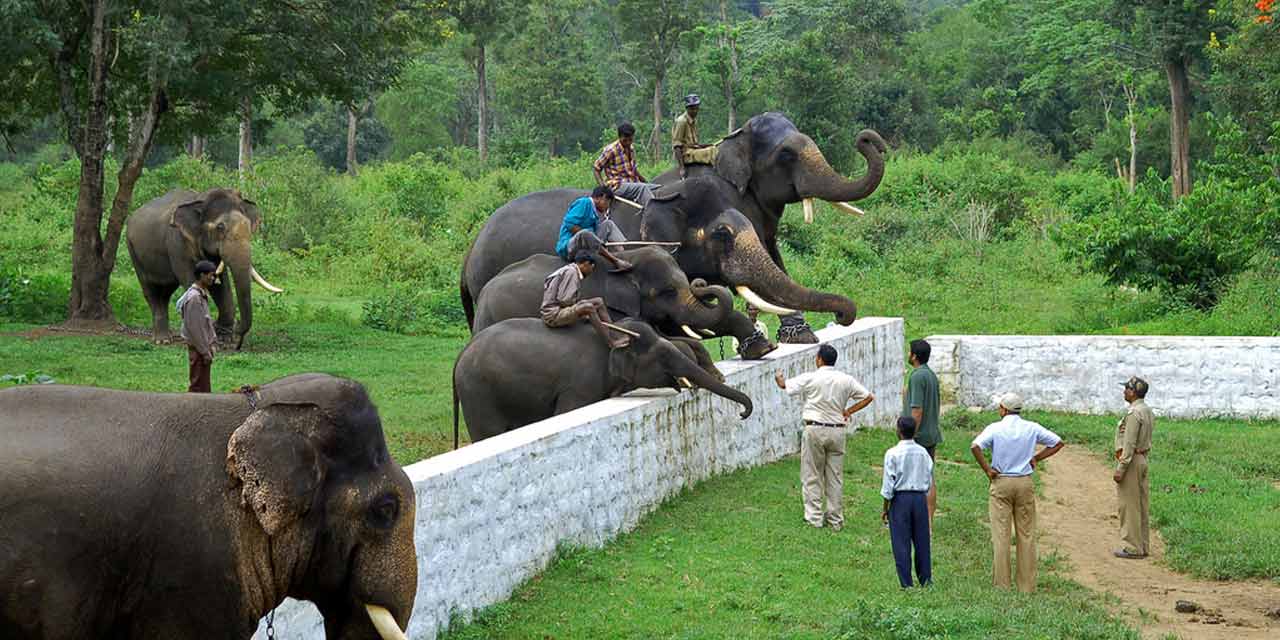 Dubare Elephant Camp Coorg Entry Fee
5,335 per room per night for Indians (River View Cottage)
8,120 per room per night for foreign tourists (River View Cottage)
4,720 per cottage per night for Indians (Cottage)
7,400 per cottage per night for foreign tourists (Cottage)
1,310 per person for Indians (Day Visit)
2,250 per person for foreign tourists (Day Visit)
670 per person for Indians (Elephant Camp Activities)
1,447 per person for foreign tourists (Elephant Camp Activities)
Dubare Elephant Camp Coorg Phone
---
Rating:
| 4/5 stars
Based on total 57 reviews
Dubare Elephant Camp Coorg Address: Kushalanagar, Coorg District, Nanjarayapatna, Karnataka, 571234, India
Coorg Tour Packages
Dubare Elephant Camp Coorg Timings
Day
Timing
Monday
9:00 am – 11:00 am
4:30 pm – 5:30 pm
Tuesday
9:00 am – 11:00 am
4:30 pm – 5:30 pm
Wedesday
9:00 am – 11:00 am
4:30 pm – 5:30 pm
Thursday
9:00 am – 11:00 am
4:30 pm – 5:30 pm
Friday
9:00 am – 11:00 am
4:30 pm – 5:30 pm
Saturday
9:00 am – 11:00 am
4:30 pm – 5:30 pm
Sunday
9:00 am – 11:00 am
4:30 pm – 5:30 pm
Links:
Website
|
Map
---
Located on the banks of River Cauvery in Coorg, Dubare Elephant Camp is one of the most popular tourist spots in Coorg. It attracts hordes of tourists from everywhere. The elephant camp boasts of plenty of elephants and offers tourists with an exceptional opportunity to be close to them and spend some memorable moments with them.
A project undertaken by the forest department and jungle lodges and resorts, Dubare Elephant Camp is a perfect place for wildlife enthusiasts.
It is the place where elephants used to be trained for Mysore Dussehra. However, now these animals are used for jungle rides. These elephants are trained under naturalists. Tourists can observe elephants in detail and from quite close. Trained Naturalists offer tourists with details on Elephant history, ecology and biology.
Activities at Dubare Elephant Camp
Elephant ride is the most popular activity at Dubare Elephant Camp. Visitors can participate in various activities involving elephants. Visitors can go for three hour elephant interaction at the Dubare Elephant Camp. Other activities like 45 minute bath in the River Cauvery where tourists can give bath to elephants, feeding them with ragi, jaggery, sugarcane, banana and coconuts and a 45 minute elephant ride into the jungle makes your visit at the Camp a memorable one.
During summer, when the water level is low, one has to cross the river on foot to reach the camp. This is a fun experience for kids, however one needs to take caution as the rocks are slippery and people might get injured. During other seasons, when the water level is more, there are boats that take visitors to the other side of the river. Please note that the place gets crowded with people waiting for boat rides and hence it is advisable to reach early.
If you love rafting, rafting is also available in the river beside the camp at nominal fee. This is still-water rafting and can be enjoyed after your visit to the camp.
Image Gallery of Dubare Elephant Camp Coorg
Entry Fee and Timings of Dubare Elephant Camp
Entry fee to visit Dubare Elephant Camp is Rs. 20 per person. For a boat ride to the main camp, the tickets are priced at Rs. 30 per person. Elephant bathing and Elephant feeding activities are charged Rs. 100 and Rs. 20 respectively for Indians.
For Day activities which include camp activities, lunch, and tea/coffee, the tickets are priced at Rs. 1310 for Indians and Rs. 2250 for foreigners. Only Elephant Camp activities are charged at Rs. 670 for Indians and Rs. 1447 for foreigners.
The timings for Elephant interaction at Dubare Elephant Camp is from 9 AM to 11 AM in the morning and again from 4.30 PM to 5.30 PM in the evening.
Where to stay at Dubare Elephant Camp
There are cottages located at the camp presenting tourists with the ultimate experience to be amidst best of natural settings. As there is no electricity here, there are arrangements of the generator. One can visit the camp at any time of the day and night.
Things to keep in mind while visiting Dubare Elephant Camp
Elderly persons and small kids must avoid visiting the elephant camp during summer as it gets slippery while crossing the river by foot.
Wear quality shoes or boots with proper grip to cross the river. You can also leave your footwear outside the camp and cross the river barefoot.
Do not litter the place.
Do not tease the elephants and take care of your kids while going near the elephants.
Carry some extra clothes if you wish to bath the elephants and play in the river.
Carrying light baggage is suggested.
How to Reach Dubare Elephant Camp
The nearest airport to Dubare Elephant Camp is Mangalore Airport, at a distance of 180 km. From there one can take a bus or hire a taxi to reach the camp. The nearest railway station to Coorg is Mysore Railway Station which is located at a distance of 100 km. From there, one can book a Mysore to Coorg cab to reach the place.
Also, there are many private and state run buses from the nearby cities and towns for Dubare. To visit other places along with the elephant camp one can also book a private cab from top car rental companies in Coorg and have a hassle free trip to this beautiful hill station.
Location Map for Dubare Elephant Camp Coorg