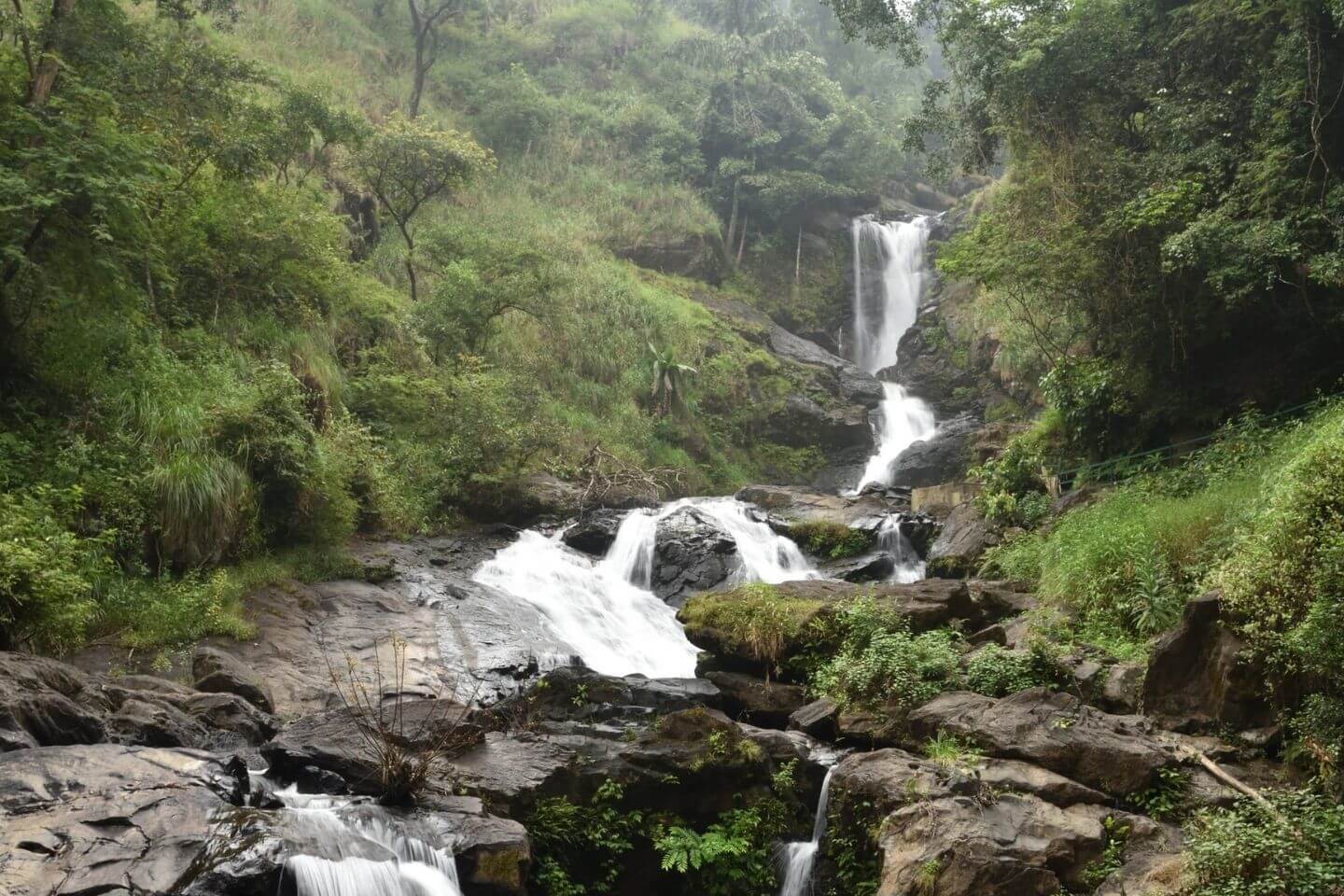 Iruppu Falls Coorg Entry Fee
50 per person
10 for Vehicle Parking Fee (depending on the type of vehicle)
Iruppu Falls Coorg Phone
N/A
---
Rating:
| 4/5 stars
Based on total 79 reviews
Iruppu Falls Coorg Address: Kurchi, Coorg, Karnataka, 571250, India
---
On the borders of Wayanad district in Kerala, Irupu Falls is one of the popular sightseeing places in Coorg, Karnataka. Iruppu Falls lies in Brahmagiri Hill range between Srimangala and Kutta.
Also known as Lakshmana Tirtha Falls, Iruppu Falls gets its name from Lakshmana Tirtha River, a tributary of Cauvery River, that starts from this waterfall.
A freshwater fall, with its striking streams of water flowing down the hills, allures not only nature lover but everyone. Amidst the evergreen forest of Western Ghats, it presents an incomparable scenic beauty adding further charm to Coorg. It is one of the most sought tourist place with our Coorg Honeymoon packages.
What makes this Iruppu Falls even more special is its association with Hindu religion. There is also a temple located near the fall, which attracts thousands of devotees every month.
About Iruppu Falls
Falling from a height of 170 feet, Iruppu Falls is a sight worth remembering. A popular place to visit in Coorg, this waterfall catches everyone's attention not only with its mesmerising beauty but with its thundering sound as well.
In the midst of refreshing greenery of Western Ghats with the sounds of birds and animals around in an otherwise peaceful environment, Iruppu Waterfalls create nothing less than a heaven for nature seekers. Most of our Coorg tour packages do include Iruppu Falls.
An often-frequented picnic spot, it is also visited by adventure-inclined tourists. The trek leading to Narimale forest camp and further to Brahmagiri Peak is quite popular among travelers. However, tourists are required to seek permission from forest department before resuming their trekking.
Along with being a popular scenic attraction, it is also equally popular pilgrimage where devotees comes to wash away their sins. Temple which is dedicated to Lord Shiva sees many devotees who come here to seek blessings.
Image Gallery of Iruppu Falls Coorg
History of Iruppu Falls
The Lakshmana Tirtha Falls signifies the religious importance of Iruppu Falls. As per the legend, Lord Rama and his younger brother Lord Lakshmana were crossing Brahmagiri range during their search of Lord Sita after her abduction by the demon Ravana, when Lord Rama had asked his brother to fetch some drinking water.
To satiate his elder brother's thirst, Lord Lakshmana has shot an arrow at the majestic Brahmagiri hills which led to the origin of River Lakshmana Tirtha.
The waterfall is thus considered to holy and is visited by many devotees, especially during the festival of Shivaratri. It is believed that the water of this fall has the power to free devotees of their past sins.
On the banks of River Lakshmana Tirtha, there is a temple dedicated to Lord Shiva, Irpu Rameshwara Temple. It is believed that Lord Shiva linga in the temple was consecrated by the Lord Rama.
Hence, devotees seek blessings at this temple before bathing in the holy waters of Lakshmana Theertha. There are also shrines of Lord Ganapati, Bhairava, Gandharava and Goddess Parvati at this temple.
A Ashoka tree, which is symbolic of Goddess Sita's imprisonment by Ravana, stands in front of the temple. Iruppu waterfalls is undoubtedly one of the top tourist places to visit in Coorg.
Timings and Entry fee of Iruppu Falls
Visitors can visit falls throughout the year. The opening timings of Irupu Falls are from 6AM to 6PM. There is a minimal entry fee to Iruppu Falls which is Rs.50 per person.
The time taken to have a relaxed tour to Irupu Falls is around half a day.
Best time to visit Iruppu Falls
Irupu Falls can be visited at any time of the year. No matter when you visit, the falls are sure to allure you with their refreshing beauty.
However, if you want to witness its beauty at its zenith then plan your visit during monsoon season or post monsoon. Tourists especially visit during the months from August to January while the peak season is from September to December.
As the falls can be reached via Brahmagiri Hills, tourists are required to buy entry ticket for entering the forest range. There is enough parking space as well. The journey through forest is an experience in itself.
Crossing the dense greenery with the sounds birds chirping and water roaring is something that no traveler would like to miss. The surrounding areas are perfect for trekking too, adding a bit of adventure to even our Coorg Honeymoon packages.
How to reach Iruppu Falls
A popular tourist attractions of Coorg Tour, it can be be easily reached from various other cities as well such as Bangalore, Mysore, Madikeri, Virajpet, etc.
The distance from Bangalore to Coorg is around 243 km, while Mysore to Coorg is around is 100 km and Mangalore to Coorg is 150 km making it possible for tourists to plan a day tour to Iruppu Falls from these places.
The nearest railway station to Iruppu Falls is Mysore railway station. It is about 110 km away from the falls. From Mysore one can take locally run buses to Kutta.
The nearest bus station to Iruppu Falls is Kutta. It is well connected to cities like Mysore, Madikeri, Virajpet, Kozhikode, Kalpetta.
Iruppu Falls lied between Srimangala and Kutta. Both the places are 10 km away. One can hire private vehicles from Kutta or Srimangala to reach the Falls.
To reach Iruppu Falls, tourists can buy then entrance ticket near Rameshwara Temple. From the temple, travelers are required to walk for around 15-20 minutes through the forest.
Things to remember while visiting Iruppu Falls
While visiting Iruppu Falls there are a few things that must be kept in mind. As the water is cold with heavy flow without any lifeguard at the venue, it is advisable to be careful while venturing into the water, especially during monsoon. However, the stones creating a path to the flow makes it easier to reach the fall.
If planning to stay longer near the falls then do remember to carry water bottles and some light snacks. Carrying an extra pair of clothes and towels is also advisable.
Nagarhole National Park is located quite close to Iruppu Waterfalls. At a distance of only 25 km, the national park presents a perfect one day tour from Coorg.
Location Map for Iruppu Falls Coorg