Out of all the popular hill stations in South India, Madikeri is a tiny little hamlet in the Kodagu district of Karnataka that offers stunning landscapes, pleasant weather, and a retreat from bustling city life.
Situated at an altitude of 1170 meters above sea level, it is renowned for its scenic beauty, rich cultural heritage, and mild climate. The town is surrounded by lush green forests and hills, making it a perfect destination for wanderers, sightseeing explorers, and nature lovers to spend some time in serenity.
A one-stop destination for people of all age groups, Madikeri, the Coffee Capital of Karnataka, attracts tourists from all corners of the world due to its unseen wonders that hypnotize everyone. This quaint region is sure to leave you spellbound every time you come here, whether for a short or long break.
Tourists looking to enjoy an escapade in tranquility will find Madikeri an ideal location to relax, rejuvenate, and return home refreshed. Not only this but it also serves as a great hub for adventure enthusiasts who are in search of adventure activities like trekking, camping, and river rafting. Overall, we can say that this hill station is a perfect getaway for individuals, couples, and families with children as it boasts something for everyone.
Below we have compiled a list of tourist places you can cover as a part of our Madikeri local sightseeing tour packages. Let's take a look:
Take a step back into the history of the bygone era and learn more about the several rulers who had ruled the region with a visit to the Madikeri Fort. Located in the center of the town, the Madikeri Fort is an important ancient monument in South India that presents a fine blend of different cultures and traditions in its own way.
It is an age-old 2-storied heritage property that was built by Mudduraja in the latter half of the 17th century. As you enter its premises, you'll come across two life-sized statues of elephants placed right at the entrance.
There is also a St. Mark's Church within the building that has been converted into a museum today and it features various antique items related to the region's land. Several other attractions like the Mahatma Gandhi Library and the Kote Maha Ganpati Temple are also there within the fort to attract people from far and wide.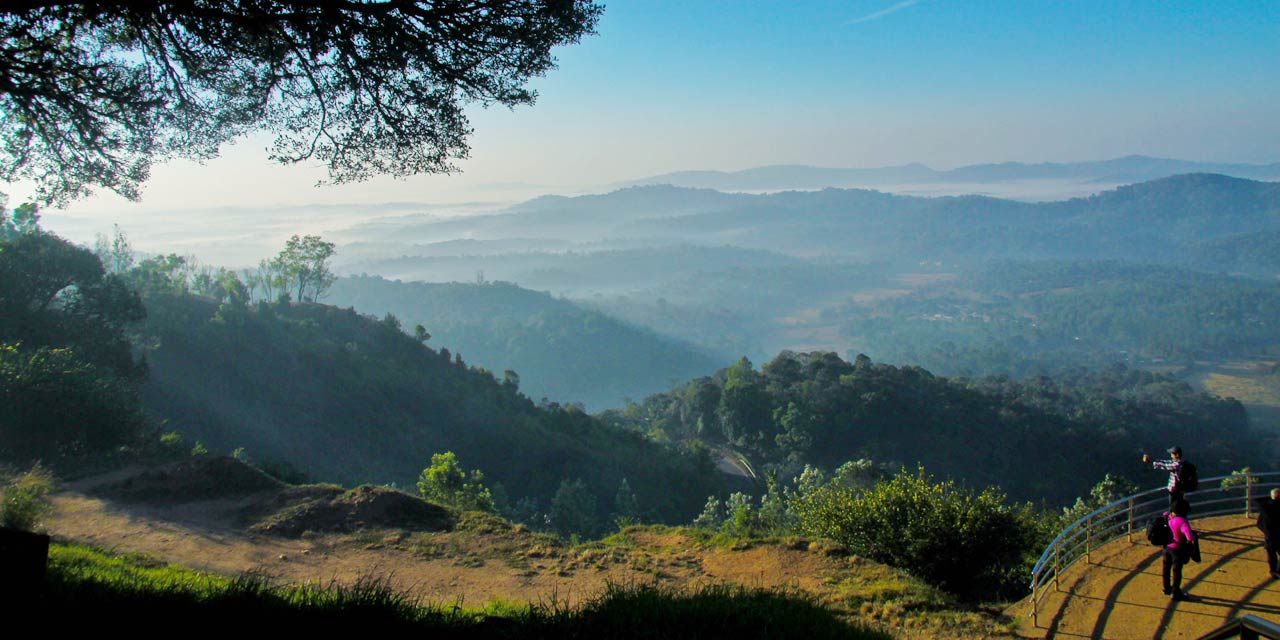 Admire the serenity and scenic beauty overlooking the valleys at Raja's Seat. Named after the king of Kodagu, Raja's Seat is a famous viewpoint that welcomes locals and tourists to sit back, relax, and enjoy a laid-back atmosphere in utmost tranquility.
It's a great place for all those who are ready to walk the extra mile to soak in the best views of nature and can also be explored by couples/families looking to enjoy an escapade away from the maddening city crowd.
Try to head to this location either in the early morning or at the time of sunset as you get a chance to capture the golden hues of the sun spreading all over the area. The Toy Train Safari is also available at the entrance of Raja's Seat for little guests to take a complete round of the entire garden surrounding this popular point of interest.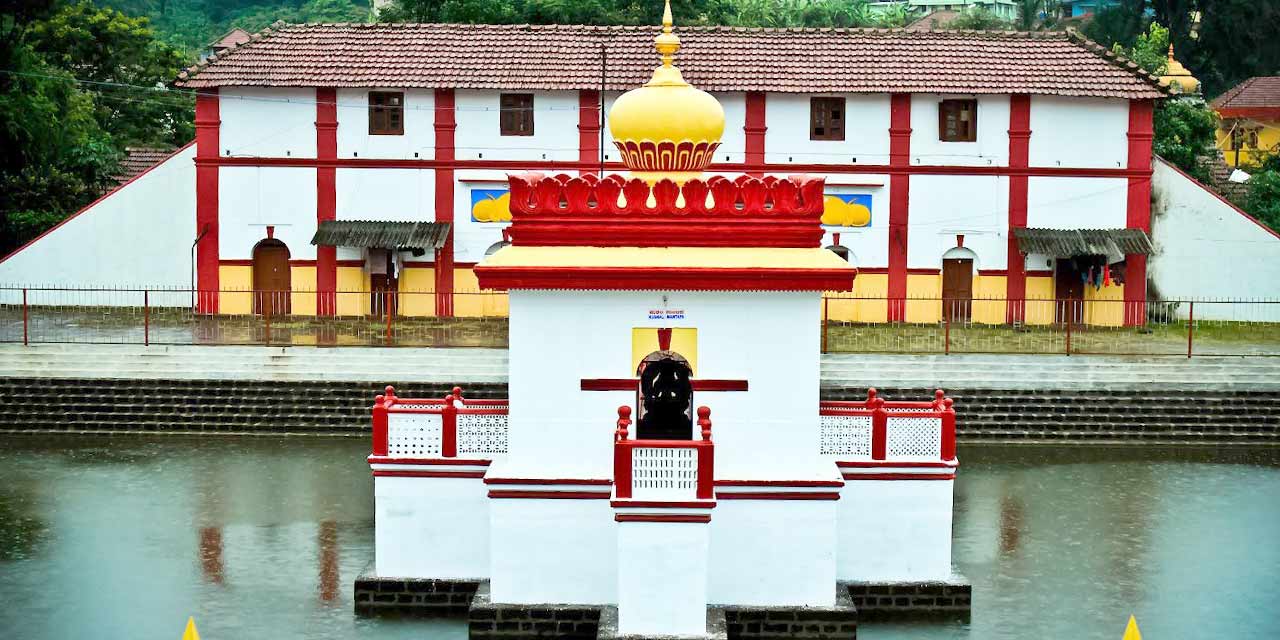 Dedicated to Lord Shiva, Omkareshwara Temple is the next famous tourist attraction that deserves to be included on your itinerary list whenever you plan to explore this hill area with our Madikeri Local Sightseeing Packages. It's a traditional Hindu temple that boasts holy and divine vibes for people to evoke a sense of spirituality within them and feel positive from the inside out.
Featuring a mix of Gothic and Islamic styles of architecture, the Omkareshwara Temple possesses a beautiful structure with a shape that looks like a mosque. Here you'll find a Linga near the entrance door along with a large water tank that is filled with a different variety of fishes. The devotees are allowed to feed them in the pond on their way to the temple.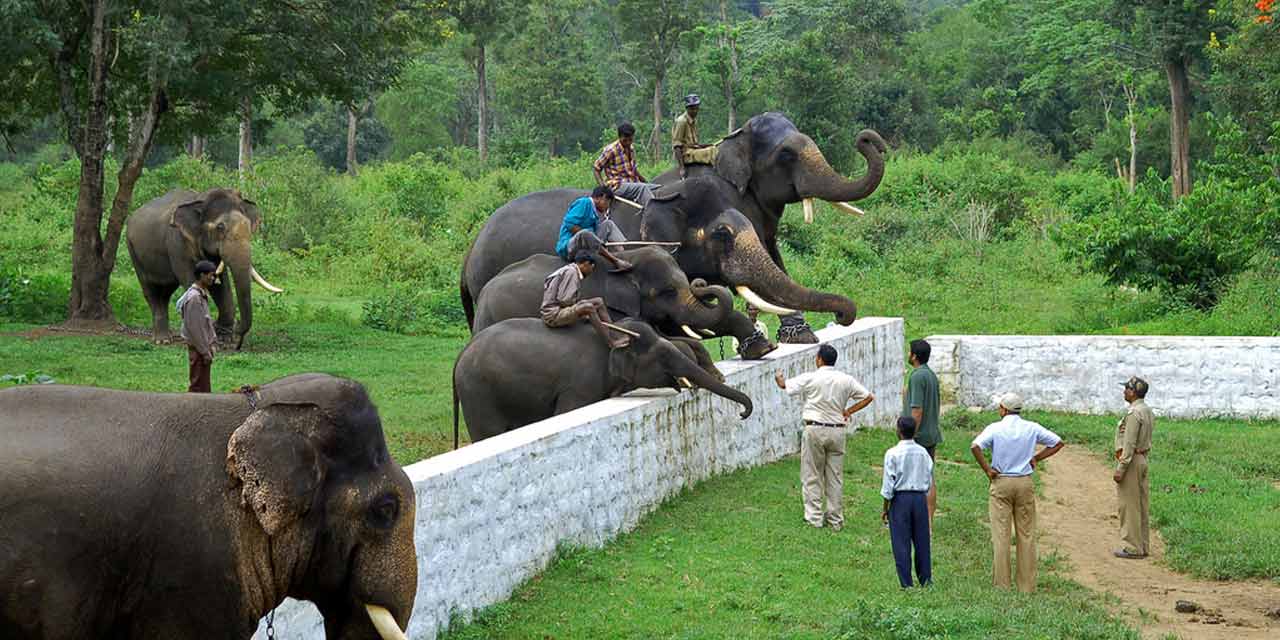 If you're a wildlife explorer and an elephant lover, and wish to know more about this majestic creature in detail, then the Dubare Elephant Camp can be an ideal location for you. It is amongst the best sightseeing places in Madikeri where you can spend a good amount of time while making friends with some elephants. You can even ride them across the green forests if they also like your vibe.
Home to over 150 elephants, the Dubare Elephant Camp invites people from all walks of life to interact and engage with a varied range of elephant species under one roof. Here you can observe the elephants from close and learn enough about their biology.
Not only this but this also serves as a great location for people interested in exploring an extensive range of fauna like sloth bears, crocodiles, wild dogs, peacocks, gaurs, etc., through a coracle boat ride. Other recreational activities such as trekking, river rafting, and bird watching are also available at the camp for your entertainment.
---
The list of the above-mentioned tourist attractions caters to travelers of all types. Depending on your holiday style, you can shortlist the places that help you make the most of your Madikeri tour. In case you're interested in exploring a few more unseen wonders in this town of Karnataka, you can simply extend your getaway to cover several other points of interest. These include Abbey Falls, Tadiandamol Peak, Pushpagiri Wildlife Sanctuary, Madikeri Palace, Nagarhole National Park, Brahmagiri Hills, Cauvery Nisargadhama, etc.
Need any help with itinerary planning? Get in touch with our professionals. We at Coorg Tourism, a division of Holidays DNA, present a range of all-inclusive Madikeri tour packages that enable you to have the best time of your life on your trip at reasonable prices. Our all-inclusive packages can also be altered to fit best to your varied holiday requirements. You just tell us the inclusions you want to have in your package and we promise that our team will be happy to do all the customization for you. Please fill out the Contact Us form to know more about our offerings in detail.
How to Reach Madikeri?
Madikeri is one of the charming hill stations in South India that maintains great connectivity to the urban cities of India like Bangalore, Mangalore, Mysore, and Coimbatore via all modes of transportation and hence, can be easily accessed by people via airways, roadways, and railways.
Approximately 137 km away is the Mangalore International Airport which is well-served by various domestic and international flights from all parts of the world. Not only is it a great option for people to experience hassle-free traveling but also works best for those who don't have budget constraints in mind.
If you like train journeys, you can simply catch a train to Mysore Railway Station which receives short and long-distance trains from the other major railheads of the country on an everyday basis. Outside the station, one can book a private cab from the list of top car rental companies in Coorg to further commute to the desired location.
Lastly, the KSRTC department also runs various state-owned buses to and from Madikeri at pocket-friendly prices for your ease. Depending on your base location, you can board a bus that takes you to this hill station in your utmost comfort. Alternatively, you can choose to self-drive to make the most of your road trip with your loved ones. The choice is yours!