Experience the best of South India with our Mysore Coorg Ooty Kodaikanal tour packages. Indulge in a range of activities, witness the local lifestyle up close, explore different cultures, and gorge on the lip-smacking cuisines as you travel through these stunning locations.
We at "Holidays DNA" at www.coorgtourism.co.in leave no stone unturned to make your holiday experience even more memorable. Our experienced travel planning team will help you create the perfect Mysore Coorg Ooty Kodaikanal tour packages as per your needs and requirements.
From exploring the imperial architecture of Mysore to trekking through the mesmerizing hills of Coorg, rejuvenating at Ooty, and witnessing the natural abundance of Kodaikanal, there is something for everyone.
Our "Mysore Coorg Ooty Kodaikanal tour packages" offer the best sightseeing, leisure activities, accommodation, and experiences at all four locations. We offer Mysore Coorg Ooty Kodaikanal tour packages from several significant locations across the country. These include all the major cities such as Mumbai, Bangalore, Hyderabad, Chennai, etc.
Popular Sightseeing Places in Kodaikanal that can be visited with this package

Kodaikanal Lake is a beautiful man-made lake that offers breathtaking views and tranquil surroundings. One of the popular sightseeing places in Kodaikanal, the lake is perfect for boating, and you can rent a pedal boat, rowboat, or motorboat to explore the lake at leisure.
The Kodaikanal Lake is an ideal spot for picnics and photography, surrounded by lush greenery-covered misty hills. You can also enjoy horse riding or cycling along the well-maintained pathways surrounding the lake.

Bear Shola Falls is a picturesque waterfall that cascades from a height of around 40 ft and is surrounded by lush forests and serene surroundings. It is believed that bears used to visit this spot to drink water, adding to the area's natural beauty.
You can take a refreshing dip in the cool waters, enjoy the misty surroundings, and click memorable photographs.

Dolphin's Nose is a famous viewpoint in Kodaikanal located at an altitude of 6600 ft above sea level. The surrounding hills and valleys offer breathtaking panoramic views. You can enjoy the stunning views from the top, especially during sunrise and sunset.
Trekking a short distance to the viewpoint is also thrilling and challenging, with scenic trails and lush greenery all around.

Thalaiyar Falls is the highest waterfall in Tamil Nadu, with a height of 975 ft. It is also known as Rat Tail Falls. The surrounding area is scenic, with lush greenery, rocky terrain, and a beautiful view of the valley.
Trekking to the falls is an adventurous activity that offers panoramic views of the surrounding hills. The falls look spectacular during the monsoon season when the water flow is at its peak.

Coaker's Walk in Kodaikanal is a beautiful walking pathway that winds around hills and offers stunning views of the valleys and mountains. You can take a leisurely stroll while enjoying the breathtaking views of the Dolphin's Nose and also Madurai City.
The walk is most enjoyable during pleasant weather, especially early mornings and late evenings when the views are spectacular.
Popular Sightseeing Places in Ooty that can be visited with this package

Nilgiri Mountain Railway is a remarkable engineering feat that showcases India's railway heritage. The railway track has several steep curves and gradients, making it a technical marvel and a UNESCO World Heritage Site in India.
You can ride the mountain railways to experience India's colonial-era transportation system. During the journey, you can enjoy panoramic views of the surrounding hills and valleys.

Ooty Lake was built in 1824 by John Sullivan, the former collector of Coimbatore. It is a popular tourist attraction in Ooty. The splendid lake is spread across 65 acres and is a paradise for photography enthusiasts who will be thrilled to capture the surrounding Nilgiri hills covered with lush greenery.
You can hire a row boat, pedal boat, or motor boat from the boat house and enjoy a serene ride across the lake.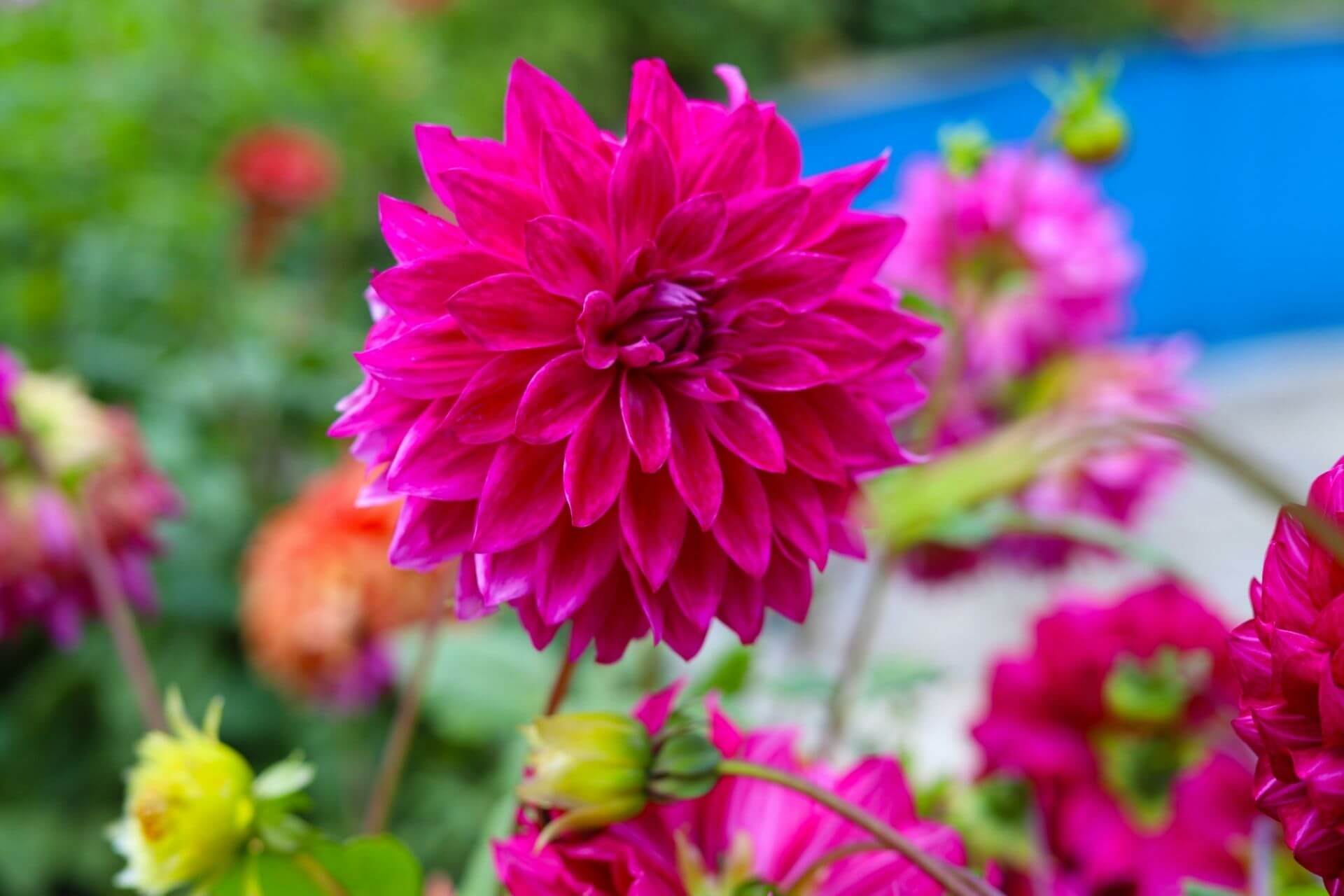 Ooty Botanical Garden is a botanical marvel and also a perfect retreat for nature lovers. The garden's diverse flora and fauna offer a unique opportunity to observe and learn about several species of plants.
Botany enthusiasts can admire rare tree species like the Paper Bark Tree and Cork Tree. You can enjoy a picnic or a relaxing walk in the garden's picturesque surroundings and peaceful atmosphere.

Rose Garden is a tribute to the beauty and diversity of roses. You will be thrilled to view a vast collection of roses, including some rare varieties like the Black Rose, Hybrid Tea Rose, and Green Rose.
You can enjoy a peaceful retreat in the garden's well-maintained surroundings and tranquil atmosphere. The garden also hosts an annual rose show, attracting visitors and enthusiasts from all over the world.
Emerald Lake is a picturesque tourist attraction known for its serene and tranquil surroundings. Surrounded by lush greenery and tall trees, the lake is an ideal spot for boating, fishing, and birdwatching.
The lake's crystal clear waters and scenic beauty make it an excellent destination for nature lovers and photographers. Adventure enthusiasts can check out the hiking and mountain biking trails around the surrounding hills.
Popular Sightseeing Places in Coorg that can be visited with this package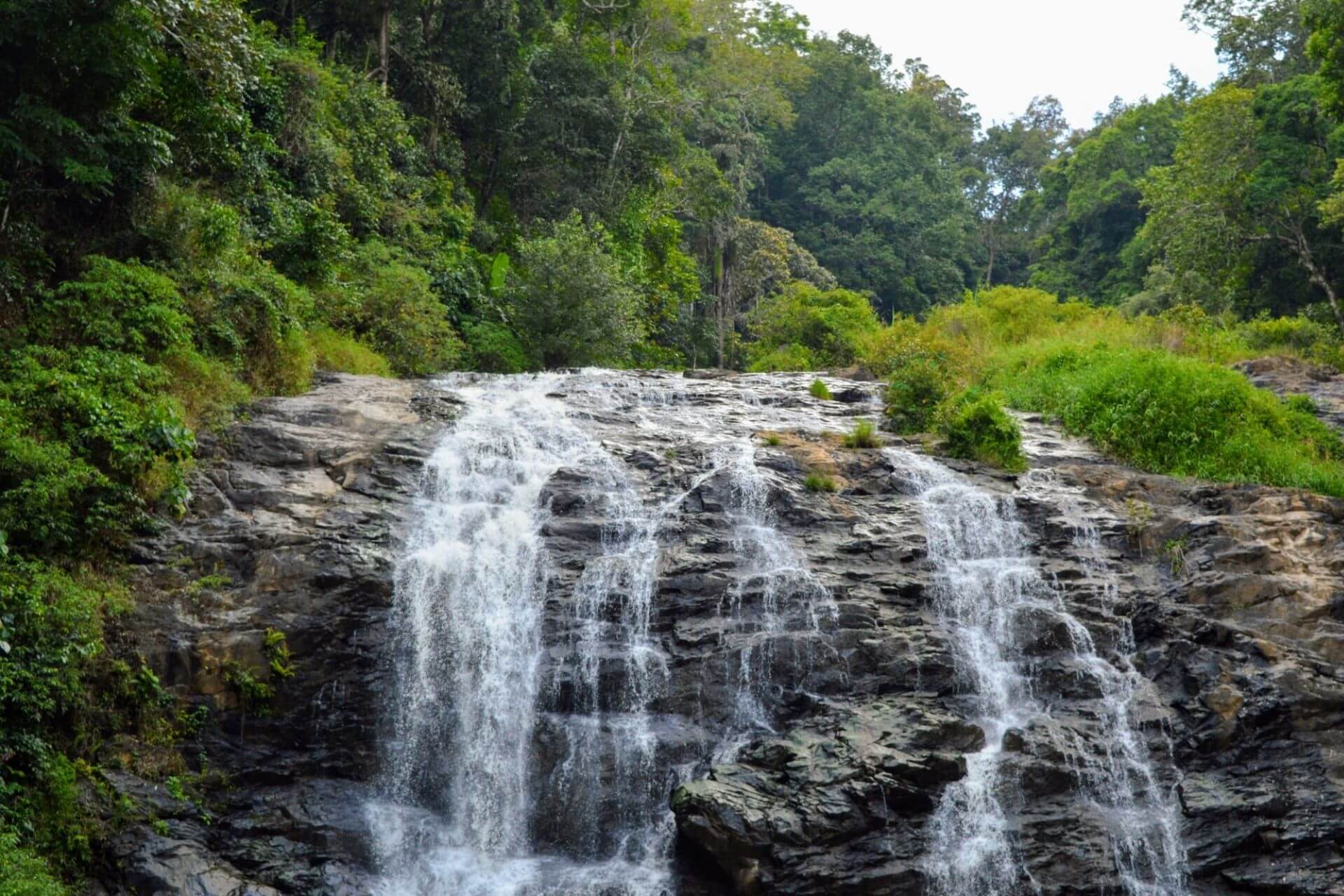 Abbey Falls is located amidst the Western Ghats and cascades through dense foliage, creating a picturesque spot. You can climb atop a hanging bridge and view the mesmerizing waterfall. You can enjoy the walk through the spice and coffee plantations to the falls and soak in the scenic beauty. Adventure enthusiasts can indulge in activities like trekking and rock climbing at the falls.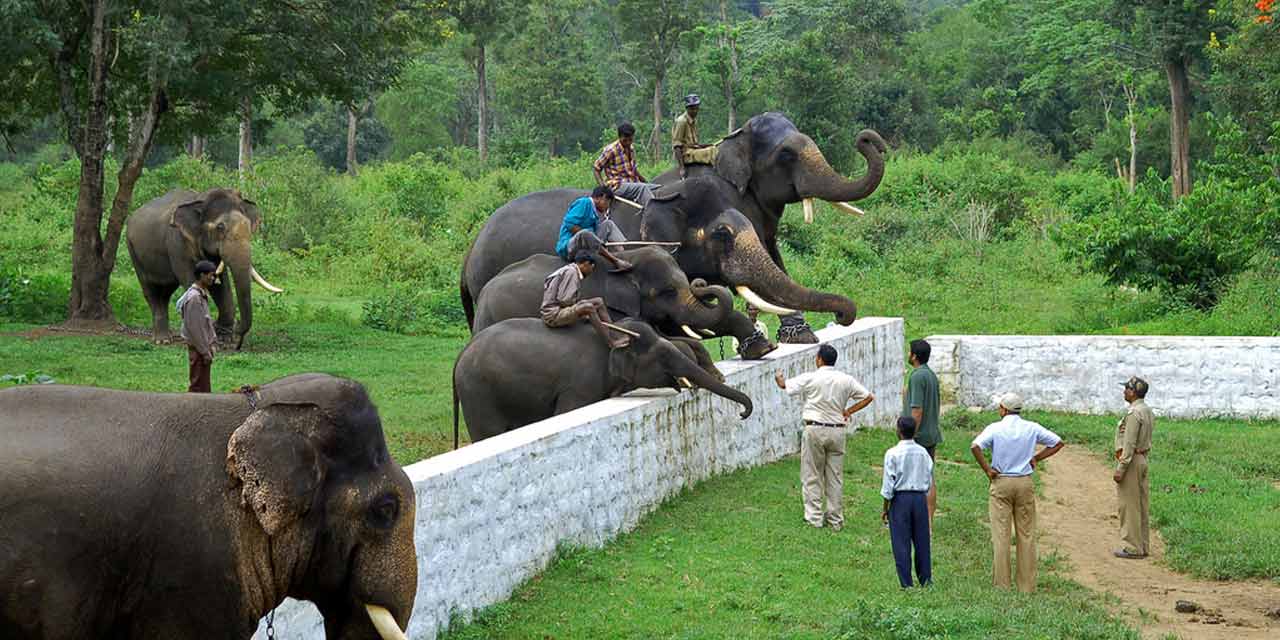 Dubare Elephant Camp offers an interactive experience with the gentle giants at Dubare Island. You can get close to the elephants by indulging in activities like feeding, bathing, and even riding them.
You can also admire several other species of wildlife, including deer and peacocks, in the camp. The scenic beauty surrounding the camp makes it an ideal place for nature walks and bird watching.
Brahmagiri Wildlife Sanctuary is a nature lover's paradise with its lush greenery and serene surroundings. The sanctuary is spread over 181 sq km and located amidst aromatic cardamom and coffee plantations.
You can explore the sanctuary's diverse terrain, including hills, forests, and streams, making it an ideal place for trekking and camping. The sanctuary is also known for its rich cultural heritage, with several ancient temples located within its premises.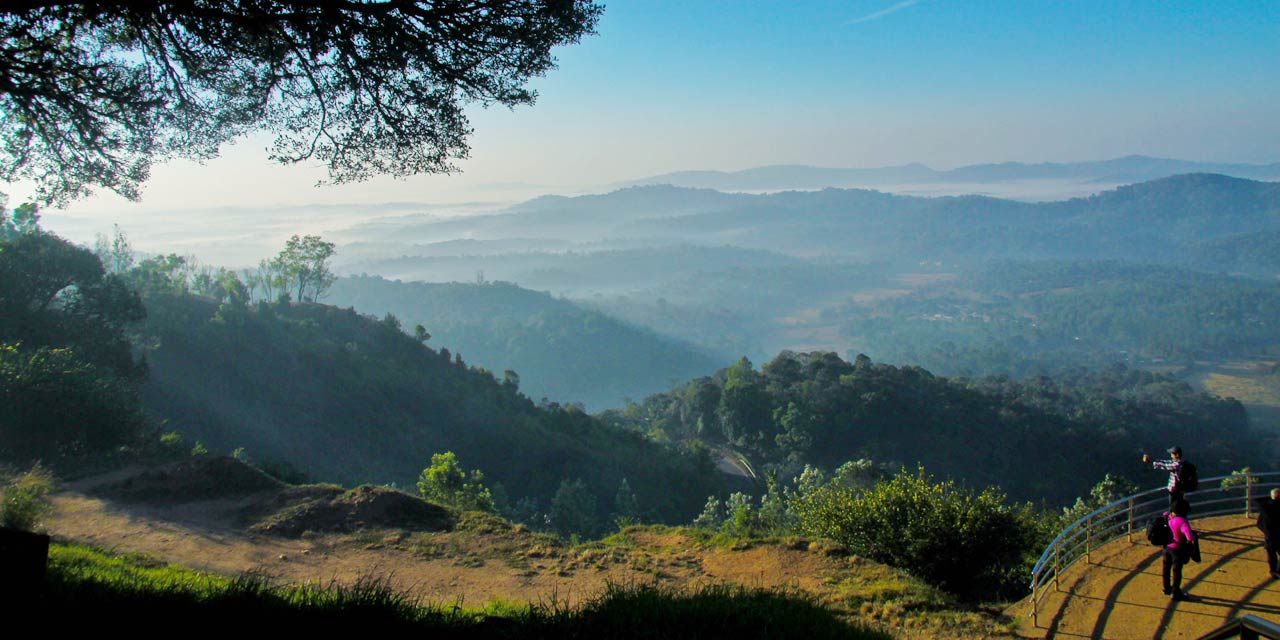 Raja Seat, an important historical site in Kodagu, is a popular tourist destination in Coorg known for its beautiful garden and breathtaking sunset views. It was frequented by the kings of the Kodagu region to enjoy scenic views.
Children and adults can enjoy the toy train ride around the garden. Raja Seat is a must-visit for those interested in photography and exploring the region's history.
Madikeri Fort, also known as Mercara Fort, is a historical monument located in the heart of Madikeri town in Coorg. Built in the 17th century by Mudduraja, the fort showcases the architectural brilliance of the bygone era.
You can view a Ganapathi temple, museum, library, and prison within the fort premises. You can witness the fort's rich history through its ancient relics, weaponry, and artifacts displayed in the museum.
Popular Sightseeing Places in Mysore that can be visited with this package

Mysore Palace is not just a symbol of royalty but also a reflection of the city's rich cultural heritage. The palace's exquisite architecture and intricate carvings take you on a journey back in time.
In the palace, you can view several museums, including a weapons museum, that showcase the region's rich history. The palace's illuminated façade every night and during the Dussehra festival is a sight to behold.

The Chamundeshwari Temple, located atop Chamundi Hills, is an architectural masterpiece and a popular place of worship. Intricate carvings and beautiful murals depict the rich history and culture of Karnataka.
Apart from the presiding deity, Goddess Durga, you can also view enormous statues of Lord Nandi and Lord Mahishasura. You can visit the temple for spiritual rejuvenation. You can enjoy breathtaking views of Mysore city from the hilltop.

St. Philomena's Church is a significant tourist attraction in Mysore known for its Neo-Gothic architecture and historical significance. Renowned as Asia's second tallest church, it was built in 1936 in honor of Saint Philomena, a third-century martyr.
You will be spellbound by the grandeur and intricate architecture of the church, making it an ideal destination for photography enthusiasts and history buffs.

Brindavan Gardens is spread over an area of 60 acres and boasts well-manicured lawns, colorful flower beds, and musical fountains. You can take a leisurely stroll along the garden's pathways and enjoy the breathtaking view of the illuminated fountains at night.
The garden also hosts a variety of cultural programs, making it an ideal place for families and friends to unwind and relax.

Mysore Zoo is home to more than 168 species of animals. The zoo's focus on conservation and animal welfare is reflected in its several initiatives, including a rescue center for injured animals.
You can observe some of the rare animals, like the Gorilla, Red Kangaroo, Sun Bear, and White Deer, up close in the zoo's natural surroundings and well-maintained enclosures. You can also enjoy a leisurely stroll around the expansive zoo grounds.